District News
<< Previous Next >> Viewing 21 - 40 of 392 stories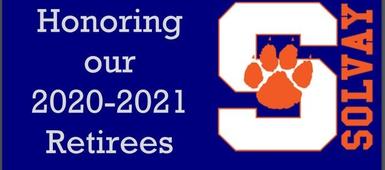 Congratulations to Our Retirees!:

On June 21, 2021, the Board of Education recognized the district's 2020-21 retirees. We wish them all a happy and healthy retirement! Once a Bearcat, always a Bearcat.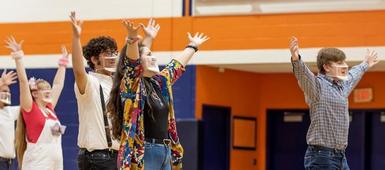 The SHS Movie Musical: The SHS Movie Musical is here!!! After 9 long months of creating, planning, designing, rehearsing, filming, and editing the first ever Movie Musical is ready for viewing! Our entire cast, crew, and production staff have worked their hardest to provide you all with our highest quality of musical theatre experiences within our community. For your enjoyment and viewing pleasure, the musical "A Day In the Life" will be on YouTube on Friday, June 25th. Please visit our Website at

SES Virtual Art Show:

SOLVAY ELEMENTARY SCHOOL 2020-21 VIRTUAL ART SHOW Click here or scroll down to view the slideshow!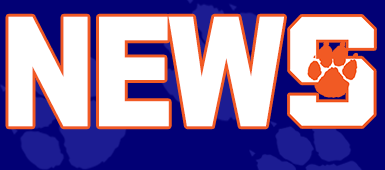 Broadband Survey:

Solvay Community, This past year has proven how adaptive and resourceful our school communities can be when faced with a challenge. Reinventing what education can be in times of crisis in a matter of days and weeks, while continuing to work on improving connections with your students required a heroic effort. At the same time, it illuminated a broader issue within our region: the unequal access to broadband internet. The Central New York Regional Planning and Development Board (CNY ...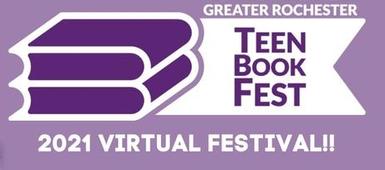 Teen Book Fest 2021 - Saturday 5/15 @ SMS: This Saturday, May 15th, Teen Book Fest comes to Solvay! If you love reading or if you are a writer, you'll want to attend! We are hosting live video chats at the middle school with literally dozens of authors including Shaun David Hutchinson, AS King, Ally Carter, Ellen Hopkins, Bruce Coville, Karen McManus, Diana Ma, Sandhya Menon, Hena Khan and many more! You'll have the opportunity to choose from lots of sessions covering topics about writing authentic characters, drawing from real life experiences, illustrating your work, creating an audiobook, world building, overcoming writer's block and more. We also have some fun surprises and activities planned! You can register at: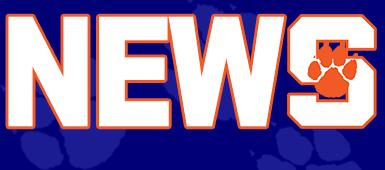 SHS Virtual Voice Recital 2021:

Over the past four months, 15 chorus students took the challenge to learn a solo for NYSSMA. 4 students decided to take on the extra challenge of learning a Vocal Jazz solo as well. The students worked after school and at home to learn and prepare their solos. This video is a culmination of their hard work they did during the most unusual year of learning and singing! Thank you to Mr. Kermit Buckman for accompanying all of our soloists! Thank you Mr. Matthew Tenorio for your video editing skills! Please enjoy the recital! 0:18 - Timothy Williams 2:20 - Audra Tennant 4:54 - Paul Pino-Espino 7:22 - Natalie Michalek 9:55 - Emily Martinez-Segui 11:17 - ...
Solvay Named Best Community for Music Education for 2021!:

The Solvay Music Department has done it again! Congratulations on winning the Best Communities in Music Education Award! "The award program recognizes outstanding efforts by teachers, administrators, parents, students and community leaders who have made music education part of a well-rounded education. Designations are made to districts and schools that demonstrate an exceptionally high commitment and access to music education." See the full list of winners at: https://www.nammfoundation.org/articles/bcme-2021-districts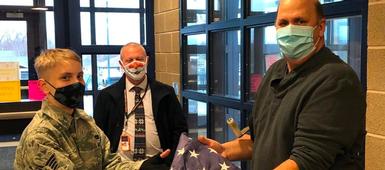 A Very Patriotic Student:

Nathan presenting the flag to Mr. Fisher & Mr. Graves Nathan folding the damaged flag. Nathan Landers is an 8th grade student who has deep appreciation and respect for his country. He shows this by proudly standing and reciting the Pledge of Allegiance at the start of each day when he attends school. In December he noticed that the flag outside of the middle school was quite tattered and torn, and this bothered him. Instead of keeping this to himself, or just dismissing the issue all together, Nathan took action. He spoke with his building principal, Mr. Graves, about the situation. He shared his strong feelings that flying a flag in this condition was a disservice to all of the ...
<< Previous Next >> Viewing 21 - 40 of 392 stories