District News
Next >> Viewing 1 - 20 of 413 stories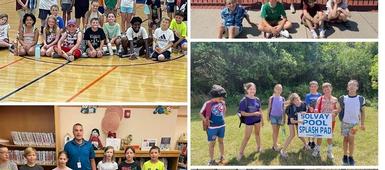 SES Summer Learning & Fun!:

Students in Ms Collins' and Ms. Clements' summer school enjoyed many opportunities to experience the Solvay community. They walked to the Solvay Police Station, Solvay Fire Department, Solvay Public Library, Solvay Pool, Splash Pad, Youth Center, and WWII Memorial Park. They read Sadako and the Thousand Paper Cranes, and made origami cranes. Students investigated structures and functions of the human body. Students explore how our bones and muscles are interconnected, how our eyes interact with light and impact our vision, and how our brain responds to stimuli in our environment. They played board games with peers and listened to a daily read aloud, Bridge to Terabithia.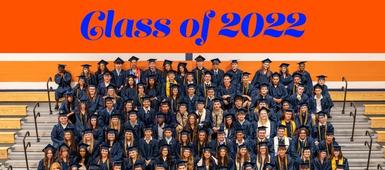 2022 Graduation Photos:

G raduation Ceremony photos are ready! > Click here to download ceremony photos > Click here for help with downloading files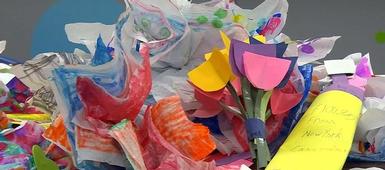 Solvay second graders helping students in Uvalde:

Mrs. Boileau's students created flowers to send to Uvalde. Mrs. Boileau's 2nd grade students (and students from Mrs. Szatanek, Mrs. Welch, Mrs. Rivito and Mrs.Potter's classes) have been making flowers for students in Uvalde, Texas as a way to show kindness and compassion to others in need. After seeing a facebook post on a national teacher page that shared a national kindness project for the community of Uvalde, Mrs. Boileau shared the idea of creating flowers to mail to Texas with all of Solvay Elementary. The flowers will be displayed at the new Robb Elementary school so when the students and teachers return they will have something bright and cheerful to make them smile. Iris St.Meran from Channel 9 News came to see the flowers the ...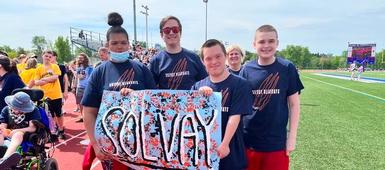 Special Olympics a Success!:

Solvay High School students and staff at the 2022 Special Olympics held at North Syracuse High School It was a beautiful day to be active outside. The students performed so well and we all had a wonderful time!
Congrats to Emily Garritillo:

Great job, Emily! Congratulations to Emily Garritillo who was inducted into the National Technical Honor Society for Health Occupations! Well done, Emily!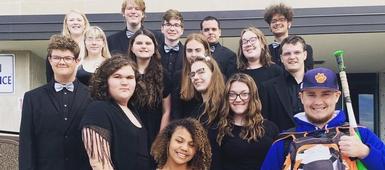 Vocal Jazz group wins Gold at NYSSMA:

Congratulations to the Solvay High School Vocal Jazz Ensemble for receiving Gold on their Level 6 performance at NYSSMA Majors Festival in Owego, NY. This is the first time, in recent history, that an ensemble from Solvay has attend Majors on Level 6 (the highest level) and received a Gold. This is due to the dedication and hard work of the students and their focus on crafting quality music with style and flare! Students in the group are: Zachery Balduzzi Jacob Barndollar Rylend Bligh Athena Clark Kelsie Edson Cameron Giannone Jack Haskell Matthew Hayden Alyssa Long Natalie Mather Paul Pino-Espino Leah Pulaski Ashlyn Smorol Carissa Stachurski Brianna Williams Timothy Williams (PS- You can see students do ...
Solvay Honored as Best Community for Music Education 5 Years in a Row:

Solvay Union Free School District's Music Education Program Receives National Recognition 5th Year Awarded The Solvay Union Free School District has been honored with the Best Communities for Music Education designation from The NAMM Foundation for its outstanding commitment to music education for the 5th consecutive year. Now in its 23rd year, the Best Communities for Music Education designation is awarded to districts that demonstrate outstanding achievement in efforts to provide music access and education to all students. To qualify for the Best Communities designation, Solvay Union Free School District answered detailed questions about funding, graduation requirements, music class participation, instruction time, facilities, ...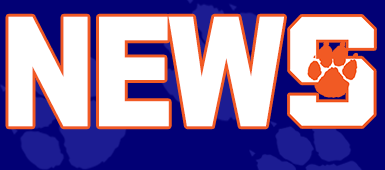 Cultivating a Love for Reading:

On March 4, 2021, Solvay High School students visited Ms. Cousineau's 4th grade class to celebrate reading! Our high school students and the 4th graders shared their favorite books with one another.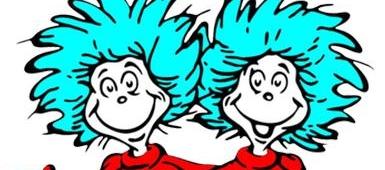 Read Across America 2022:

Throughout the month of March, Solvay Elementary students are being challenged to read more than ever! Today, was the kicked-off in honor of Dr. Seuss's Birthday and Read Across America. Every student and teacher lined the halls and enjoyed reading a good book at the same time!
Next >> Viewing 1 - 20 of 413 stories