District News
Next >> Viewing 1 - 20 of 432 stories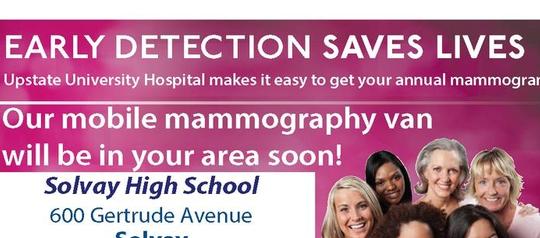 SHS to host Upstate University Hospital's Mammography Van: The Solvay Union Free School District would like to share the following opportunity with our community: CLICK IMAGE TO ENLARGE The Upstate University Hospital's Mammography Van will visit Solvay High School on Monday, March 13, 2023. The screenings will be available between 9:00 a.m. and 3:30 p.m. for women who have scheduled an appointment. Appointments are required: To schedule an appointment for a mammogram with the van, women should call 315-464-2588 . Appointments can also be requested online at:
Got Sneakers?:

Solvay High School Parents' of SADD is working on fundraising for the after prom and after ball parties. We are collecting your gently loved sneakers for our fundraiser. They love (and pay more!) for name brand sneakers, however, any sneakers that are sent if not in good condition will be used as recycling for turf, playgrounds, etc. Sneakers may be dropped off in the main office. If you have A LOT of sneakers and would like someone to pick them up, please call or text. Jerri H. at 315.727.2323 to arrange a pick-up. [A special thank you to our 8th Grade Solvay Middle School Artist, Kayko Weis for the sneaker drawing.] If you would like to help us out with fundraising for these events, please reach out to the contact above, ...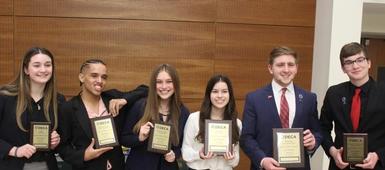 DECA Students Win Awards:

SHS Students attend DECA conference! Solvay DECA returned to LeMoyne College for the annual Region 9 Conference where they joined 300 students from ten schools to compete in business role play events. Solvay was well represented by 24 exceptional students who all performed very well. The students had spent the previous two months working after school to gain knowledge of business concepts and to practice their presentation skills. Their hard work paid off and 12 students walked away with awards in their events. Senior Award Winners WINNERS: 4th place winners were: Victoria Zappala, Rai Vang, Naomi Germakovski, ...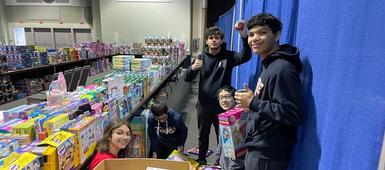 SHS Students Volunteer at Christmas Bureau:

On Monday, 12/19, student athletes, Key Club members and NHS students visited the Oncenter today to help with the Salvation Army Christmas Bureau set up. They were a great group and worked hard separating toys and putting them on display for the shopping day. Many of the boys learned the difference between infant and toddler toys and some even gave some extra help to the special needs group that was also there during our time slot! Thank you to the chaperones who came and worked hard too! We all look forward to next year!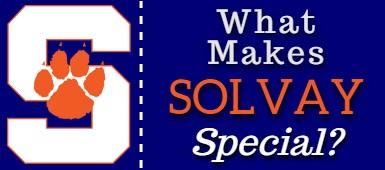 Earthquake Engineering @ SES:

Our fourth graders have been learning about how engineers have come up with ways to make building earthquake resistant. Now it is their turn to try to build a structure to withstand an earthquake.Their structures might include a strong foundation, cross bracing, a base isolator, a mass d amper, and a center column u sed in pagodas.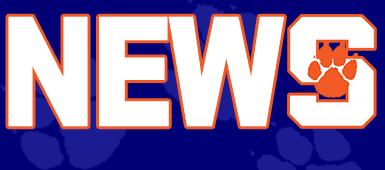 Bearcat Clothing Store Open through 11/17:

Attention Bearcats: Don't forget to order some new spirit wear! Just in time for the holidays... we have a Bearcat Clothing Store open until Thursday, November 17! Please use the link below and all items will arrive in time for the holiday! https://scwstore.com/products/Solvay-Bearcats-c138456309 We do not have samples of any item. Sorry for that inconvenience!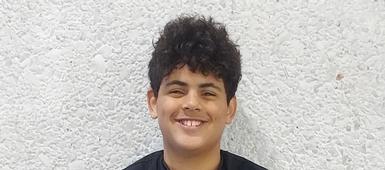 Freshman James Webber Selected for NYSSMA:

Freshman James Webber was selected to participate in the NYSSMA Zone 3 Junior High Area All-State Chorus held at F-M High School on November 4th-5th, 2022. James was recommended for this honors ensemble based on his NYSSMA Solo score from 2021. The honors ensemble was led by Mr. Eric Williamson, a vibrant educator and conductor of the Brooklyn Youth Chorus. Junior High choristers and instrumentalists from across the state rehearsed on Friday and Saturday, and shared their performance with family and friends Saturday afternoon. Congratulations on this accomplishment, James!
Next >> Viewing 1 - 20 of 432 stories