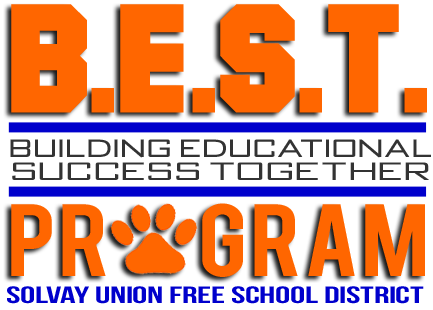 21st Century After School Program
B.E.S.T. (Building Educational Success Together)
---
Click here for Enrollment Form (PDF)
Click here for the Parent Handbook (PDF)

The Solvay Union Free School District is pleased to offer a free program for students outside of the regular school day, called B.E.S.T. (Building Educational Success Together). The program is funded through a 21st Century Community Learning grant which runs from 2017-2022. All school buildings will participate in the program.

This program is designed to help students increase academic performance, provide a host of enrichment activities and help families support their children. Activities include homework help, S.T.E.A.M., recreation activities, art, music, cooking, community service and field trips.

Each building will have programs available before school and after school until 5:00 p.m. Transportation will be provided for K-8 students and for high school students based on need. The program runs when school is in session and will cancel when there are no after school activities. Applications are downloadable from the 21st Century Page on the school district website and should be returned to the main office of your child's school.
All students must be enrolled in the program to attend.

Partnering with our program will be Syracuse University, BASCOL, ACMG Credit Union, OCC, Manufacturers Association of CNY, and OCM BOCES. The program is entirely funded through the 21st Century Learning Grant Program and as a result of grant regulations, all students who are enrolled in the program should attend every day. The program is free to all district families.
---

For more information, contact Michael Emmi, Project Director of the
21st Century Learning Program, at 315-468-2551.

In addition each building has site coordinators that maybe contacted as well:

Solvay Elementary School (315) 488-5422 – Walter Benedict (wbenedict@solvayschools.org)

Solvay Middle School (315) 487-7061 – Mary Kay Cole (mcole@solvayschools.org)

Dan Marshall (dmarshall@solvayschools.org

Solvay High School (315) 468-2551