District News
<< Previous Next >> Viewing 21 - 40 of 210 stories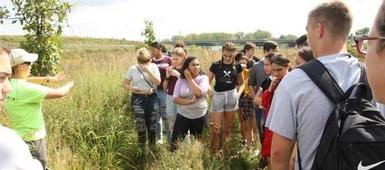 SHS students take the classroom outside:

SHS students enrolled in SUNY-ESF's Global Environment and Biology classes visited the METRO Wastewater Treatment Facility and Onondaga Lake Visitor's Center on Tuesday Sept. 18. Students explored the complex system that cleans our wastewater and learned about the ecology and biology of the lake cleanup.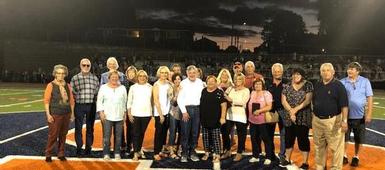 SHS Class of 1968 Reunion:

Incase you missed it - the Solvay High School Class of 1968 recently had their class reunion. See photos from the reunion below!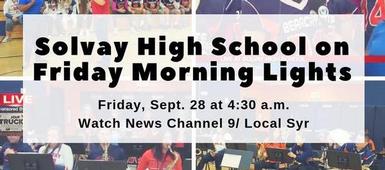 SHS on Friday Morning Lights Sept. 28:

On Friday, Sept. 28, Solvay High School will be featured on Friday Morning Lights. Tune in at 4:30 a.m. to view the live broadcast from Solvay High School. The broadcast will feature the Solvay Football team as they prepare for their homecoming game against Bishop Ludden. Good luck, Bearcats!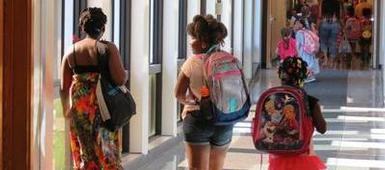 Welcome back, Bearcats!:

Welcome to a new school year, Bearcats! #SolvayBearcatsFirstDay Pictured below are students arriving for their first day.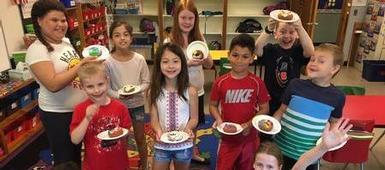 SES students practice design and engineering with donuts:

At the end of the last school year, students from Solvay Elementary School participating in Melissa Boileau's morning program took part in creating a special kind of treat. In conjunction with their design and engineering unit, students created various designs on donuts. Students and staff were then invited to vote on their favorite donut designs. View the designs below!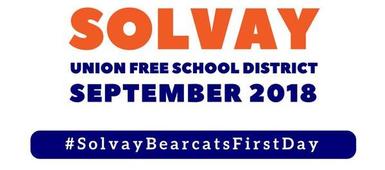 Share your first day photos with us!:

The first day of school is almost here! For the 2018-19 school year, we are inviting Solvay Union Free School District students, staff, and families to consider sharing their first day of school photos with us. We have even made a sign for you to use! Printed copies of the sign may be picked up at the district office and each of the school main offices. Photos can be shared with us through Facebook (@SolvaySchools) , Twitter (@SolvaySchools) , email, or by using the hashtag #SolvayBearcatsFirstDay. We can't wait to see how you plan to celebrate the start of the 2018-19 school year! Please note that by submitting your photos, you allow the Solvay UFSD to use and display them online. When submitting photos on social media, please be sure to avoid using ...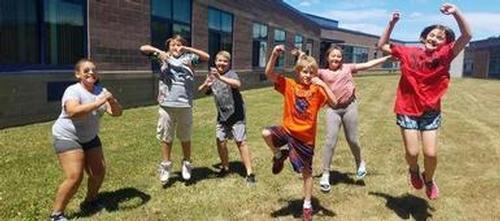 SMS sixth-graders attend a new kind of summer program:

Sixth-graders from Solvay Middle School have spent part of their summer with their peers, filling their days with reading, writing, reflection, and plenty of great snacks. Mrs. Alton and Ms. D'Eredita recently wrapped up a successful sixth grade summer program, thanks to the 21 st Century Learning Grant. During the summer school program, students were able to experience a variety of assignments and tasks throughout their days. At the start of each day, students worked on a responsive classroom chart and attended an engaging morning meeting. Students had plenty of interactions with their peers during the day, as the class would sit down and eat their breakfast and lunch together family style. Some of their favorite meals were chicken and waffles, sausage, egg, and cheese sandwich ...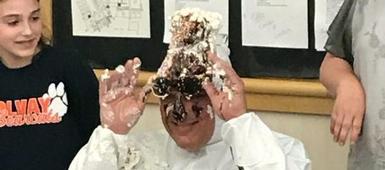 Mr. Gottlieb turns into human ice cream sundae:

Mr. Gottlieb as a human ice cream sundae Before the end of the school year, Solvay Middle School student Olivia Ouderkirk met her savings account challenge for the year. Like the two students from Solvay Elementary School, Olivia was able to turn her principal into a human ice cream sundae. Mr. Gottlieb was given the treat of being turned into an ice cream sundae, with SMS students cheering him on. The sundae consisted of ice cream, chocolate syrup, whipped cream, marshmallows, and, of course, sprinkles. Great job to Olivia on meeting her savings challenge – and turning Mr. Gottlieb into a human ice cream sundae.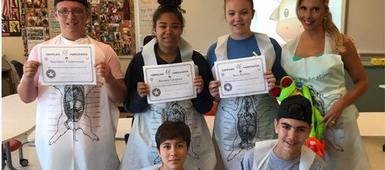 SHS science department practices summer learning:

The 21st Century Learning Grant afforded Solvay High School's science department with a unique and inquiry-based opportunity this summer. Mrs. Lisi's biology students had the incredible experience of dissecting a grass frog, fetal pig, and cow heart over the course of three days in July. Students worked diligently through each dissection, identifying individual organs and their functions in both amphibian and mammalian organisms. This is an opportunity not often made available for students until collegiate age. These students now have a great advantage for any future biology courses they may choose to pursue in the future!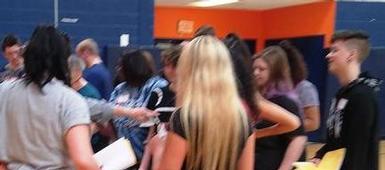 Solvay Teens Get a Taste of "Real Life" With Mad City Money:

Prior to the end of the 2017-18 school year, ACMG Federal Credit Union and SHS teamed up to give SHS seniors in economics classes a taste of the real world. When students gathered in the SHS gymnasium on May 18, they were temporarily transported into their future lives in a simulated town called "Mad City." This town was staffed by "merchants" or volunteers from real, local Solvay businesses. Students were given packets complete with their future occupation, salary, spouse, and/ or children, student loan debt, credit card debt, medical insurance payments, and their credit score. The challenge was for seniors to visit each of the merchants to purchase food, clothing, housing, transportation, daycare, and other household necessities, all while maintaining a budget. ...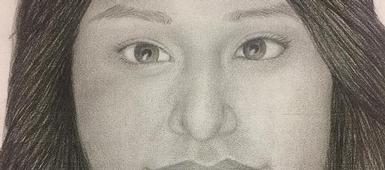 Students from Solvay High School create portraits for children in Mexico:

Prior to the end of the school year, students in the Solvay High School Advanced Drawing and Painting class participated in a class project to create portraits for children from Mexico. Students in Kim McGraw's class painted and drew portraits of the children, as a part of the Memory Project. Earlier this year, students also painted and drew portraits of children from Syria. http://www.solvayschools.org/districtpage.cfm?pageid=689 The Memory Project is a nonprofit organization that engages art students from schools throughout the United States. The project aims to create realistic portraits for orphaned and disadvantaged kids from different countries around the world. The latest project allows Solvay students to provide the children with meaningful pieces of personal history. This ...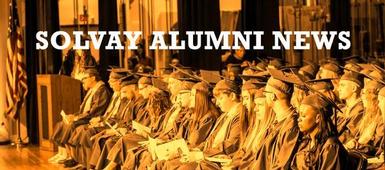 Alumni News: Congratulations to our alumni on these recent accomplishments!:

Congratulations to our Solvay alumni on these excellent accomplishments! - The State University of New York at Potsdam recently named Nathan Carr of Syracuse, NY to the SUNY Potsdam Dean's List for spring 2018. Nathan also graduated from SUNY Potsdam with a Bachelor of Arts degree in Environmental Studies this spring 2018. Congratulations, Nathan! - Nicholas A. Clemente was one of nearly 520 students who were awarded bachelor degrees from St. Lawrence University during Commencement ceremonies held on May 20, 2018 in Canton, New York. - Jacob DePalma of Syracuse, NY was recently named to the spring 2018 President's List at The State University of New York at Potsdam. ...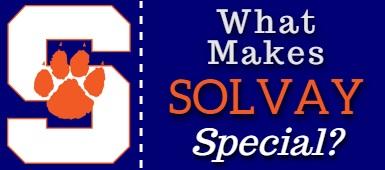 Thank you to the retirees of the Solvay Union Free School District!:

On Monday, June 18, the Solvay UFSD celebrated six employees retiring from the district. Please join us in congratulating them on their retirement and thanking them for their service to the Solvay UFSD! Brad Curtis - Brad Curtis has served the Solvay UFSD as a custodian for six years. He has worked at both Solvay High School and is finishing his service at Solvay Middle School. During his time with Solvay, Brad has led by example, arriving early, staying late, and dropping what he was doing to help others when needed. He has been a pleasure to work with and will be greatly missed. We wish Brad all the best as he retires and hopes he enjoys his time working on his sports cars, riding his motorcycles, and having more time to spend with his wonderful family. Thank you ...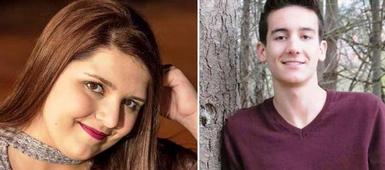 Meet the Class of 2018 Valedictorian and Salutatorian:

Congratulations to the Class of 2018 Valedictorian and Salutatorian! Mary Catherine "MC" Lopez Valedictorian Mary Catherine "MC" Lopez Parent(s) names : Frank and Mary Beth Lopez College choice: Nazareth College, to pursue a degree in Theatre with a Certification in Inclusive English Adolescent Education. I also plan to continue to study music, specifically the pipe organ. Career plans: I plan to become a high school English teacher and run the Drama Club at the school I teach. I also plan on being a substitute church organist. What have you enjoyed the most about high school? I've enjoyed being active in Drama Club, Masterminds/Double Down, Band, Chorus, Jazz Band, Vocal Jazz, and Chamber Choir. I've also ...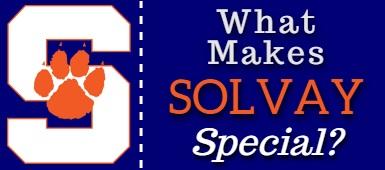 Congratulations to the SHS Class of 2018 candidates for graduation!:

Congratulations to the Solvay High School Class of 2018 candidates for graduation! Commencement for graduating seniors in the Solvay High School Class of 2018 will take place on Saturday, June 23 at 11 a.m. at Solvay High School. Everyone plays such an important role in shaping our students as they move through our school system. The Solvay Union Free School District would like to thank everyone in our community for the support you've given our students over the years. Graduation is both a student and community celebration. Thank you so much for everything you do! Here is a list of the candidates for graduation in the Class of 2018: Amal Al Zokari Suhil Alashwal Brooke Aldrich Caleb Andrew Breonna ...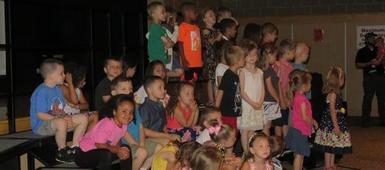 Pre-Kindergarten Students Graduate:

On Wednesday, June 20, pre-kindergarten students from the Solvay Union Free School District celebrated their graduation. The graduation took place in the Solvay Middle School auditorium, where students welcomed their friends and family to the event by showing them what they learned throughout the year. The students sang songs about the alphabet, numbers, and moving on to kindergarten. Students then received their diplomas, during which time many of their future career plans were announced – including teacher, firefighter, construction worker, princess, daddy, and mommy. After they received their diplomas, parents gathered their tissues as everyone watched a slideshow featuring pictures from when the students were babies to present day. Following the graduation, students and their ...
<< Previous Next >> Viewing 21 - 40 of 210 stories