District News
<< Previous Next >> Viewing 21 - 40 of 252 stories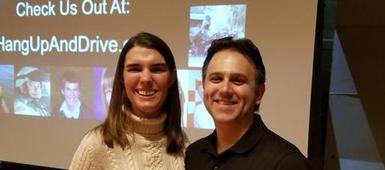 SHS Hosts Distracted Driving Assembly:

Recently, the students at Solvay High School were fortunate to host Jacy Good, public speaker and safe driving advocate, and her husband, Steve Johnson. Jacy Good graduated from Muhlenberg College in May 2008. As she and her parents drove home after the graduation ceremony, a teenager – who was driving and talking on his cell phone – turned left through a red light, causing a fully loaded tractor-trailer to swerve and hit Jacy's family station wagon head-on. Jacy's parents were killed instantly. Jacy was severely injured and went through months of rehabilitation. Since that time, Jacy has worked tirelessly to help enact distracted driving laws. She and Steve also travel around the country telling their story. ...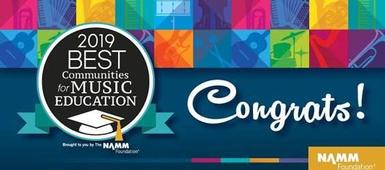 Solvay UFSD Among "2019 Best Communities for Music Education":

For the second year in a row, the Solvay Union Free School District has been named one of the "Best Communities for Music Education" by the National Association of Music Merchants ! A national distinction, the "Best Communities for Music Education" designation is awarded to districts that demonstrate outstanding achievement in efforts to provide music access and education to all students. Solvay UFSD is one of only 623 districts to receive this honor in 2019. Research into music education continues to demonstrate educational/cognitive and social skill benefits for children who make music. After two years of music education, research found that participants showed more substantial improvements in how the brain processes speech ...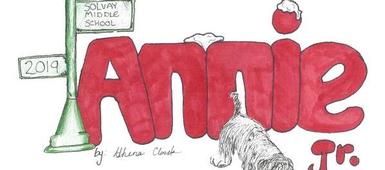 SMS Presents: Annie Jr - 3/29-3/30:

This year's cast and crew of Annie Jr will be performing on April 29th and 30th. Our cast and crew of over 75 fifth through 8th graders has been hard at work for the past several months and are happy to welcome our littlest cast members to join them on stage for PreKs second appearance in the middle school production. The 8th graders have selected the American Cancer Society for our charitable donation as the production staff continues to encourage the cast and crew to find ways to give back to the amazing community that has always shown them such tremendous support. We also would like to thank the PTO and Music Boosters for their support of the cast and crew.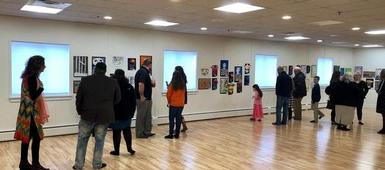 Fifth grade work featured in local Art Show:

Recently, fifth grade students from SMS visited the Life Force Sanctuary to see their art work! The students had their artwork on display throughout January and February, and celebrated this accomplishment with an art show. Great job, Bearcats!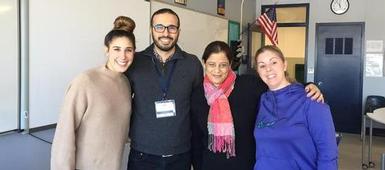 Solvay UFSD Welcomes Teachers From Around the World:

The Syracuse University School of Education is one of three universities in the country hosting recipients of the Fulbright Distinguished Awards in Teaching Program for International Teachers (Fulbright DAI). The program brings international elementary and secondary teachers to the U.S. for a semester of professional development. This year, eighteen Fulbright teachers from all over the world will live on SU campus for the semester and participate in classroom placements in Solvay UFSD, Syracuse City School District, and the Jamesville-Dewitt School District. The five Fulbright teachers at Solvay will have a rich learning experience, as well as bring their teaching styles to our staff and students. Solvay is hosting the following teachers: • Ms. Cole (Grade 4 Teacher) ...
Jim's "Bearcat" Alliance raises money for The ALS Association:

Jim's Bearcat Alliance This fall, several current and retired Solvay UFSD staff members and their families participated in the Upstate New York Chapter's annual Walk to Defeat ALS. The Bearcat staff members joined Jim's Alliance. The team is led by Jim Altman, who is living with ALS. Jim is the husband of Cindy Altman, fifth-grade teacher at SMS. Jim's "Bearcat" Alliance raised over $200 to donate towards Jim's fundraising total, which was over $10,000. The money raised at these events stays in the community for The ALS Association. Each event raises funds and increases awareness to help The ALS Association fund vital cutting-edge research and patient services programs. The Bearcat team joined the Walk to Defeat ALS to ...
Alumni News: Where are they now?:

Congratulations to our Solvay alumni on these excellent accomplishments! Haylea Collura earned perfect 4.0 GPA at Coastal Carolina University and was named to President's List in the fall 2018 semester. Jacob DePalma was named to SUNY Potsdam President's List in the fall 2018 semester. Analisia Diana was named to the Cazenovia College Dean's List in the fall 2018 semester. Jake Dippold is a member of the Wofford's Orientation Staff, assigned to greet the Class of 2022 during their arrival in fall 2018. Caitlin (O'Neill) Esposito (Class of 2000) was named as Le Moyne College's chair and program director for the college's Masters of Science in Occupational Therapy program. She recently received her doctorate ...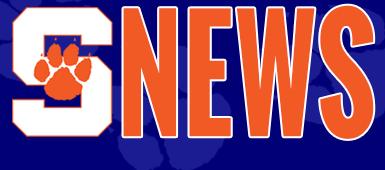 Transportation Department Temporary Relocation:

Reminder: The Transportation Department will be temporarily located at 690 State Fair Blvd., Syracuse, NY. All phone numbers will be the same and there will be little to no change in the bus times. We thank you for your patience with us as we prepare to take down the old garage and build a new bus garage. As always, student safety is first on our priority list. A letter has also been sent to residents near the existing structure. For more information, please visit www.solvayschools.org/capitalproject2018. Or call 315-487-5842 with questions or concerns.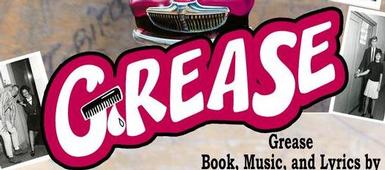 Solvay High School Drama Club Presents "Grease":

"Grease" is the word for the upcoming spring musical at Solvay High School! The Solvay High School Drama Club is pleased to present "Grease" to the Solvay community. The show will take place in the SHS Auditorium on Friday, March 8 at 7 p.m. and on Saturday, March 9 at 2 and 7 p.m. The matinee performance on Saturday, March 9 at 2 p.m. will be signed in American Sign Language. "Grease" introduces us to Rydell High's senior class of 1959. This rollicking musical brings us back to the look and sound 1950s, with the duck-tailed, hot-rodding "T-Birds" and their gum-snapping, hip-shaking "Pink Ladies" in bobby sox and pedal pushers. The musical focuses on head "greaser" Danny Zuko and new (good) girl ...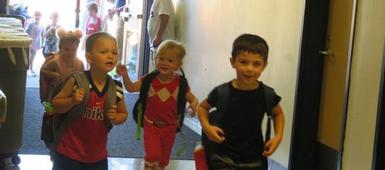 PreK Informational Meeting Thursday Feb. 28 at 6:30 p.m.:

February 2019 Dear Parent(s): The Solvay School District operates a Prekindergarten program for 4 year olds. We are currently registering students for the 2019-20 school year. We strongly encourage you to enroll your child in our program if he or she will be 4 years old by December 1, 2019. The PreK program operates Monday – Friday, for 6 ½ hours, and will follow Solvay school district calendar. There is no charge or fee for your child to attend the PreK program if you reside in the Solvay School District. Transportation is provided for students once they are 4 years old . We have scheduled an informational open house for Thursday, February 28, 2019 at 6:30 PM at Solvay Middle School Library, 299 Bury Drive, Syracuse, NY ...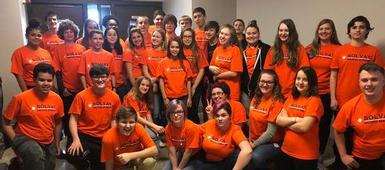 Learn more about: Solvay Success Academy:

Learn more about: The Early College High School Learning Grant – Solvay Success Academy The month of November marked the start of something new at the Solvay Union Free School District – Solvay Success Academy. The program is funded by a grant from the New York State Education Department and is open to students entering ninth grade at Solvay High School. Solvay Success Academy gives students the opportunity to earn 24 to 60 college credits during their four years at SHS. Solvay Success Academy has been in development at the Solvay UFSD since this past summer. In June 2018, the Solvay UFSD was awarded the Early College High School Learning Grant by the New York State Education Department. Solvay UFSD was one of 19 schools in the state selected to implement the ...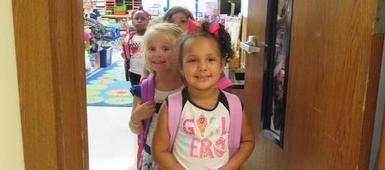 Kindergarten and Pre-K Registration for the 2019-20 School Year Now Open:

There is still time to enroll for Pre-Kindergarten! Kindergarten and Pre-Kindergarten registration for the 2019-20 school year is open. To begin the registration process, please visit the Central Registration website . Please complete the registration process as soon as possible to help with enrollment projections for the upcoming school year. Solvay UFSD offers a pre-K program for four-year-old children residing in the Solvay UFSD for the 2019-2020 school year. There is no charge to families, regardless of family income. This program is funded by special grants from the New York State Education Department. Space is still available in this program and all children who are four years old on or before December 1, 2019 are welcome to ...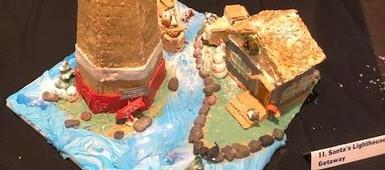 Solvay student wins award at Erie Canal Gingerbread Gallery:

For many years, Solvay Union Free School District eighth-grader Kaylah K. has been participating in a sweet pastime – making gingerbread houses. Kaylah has spent the last few years creating gingerbread houses for the Erie Canal Museum Annual Gingerbread Gallery. This year, Kaylah's hard work paid off, as she received the Judge's Choice Award for first place winner in the Youth Category. This past holiday season was the 33 rd Annual Gingerbread Gallery at the Erie Canal Museum in downtown Syracuse. For the gallery this year, Kaylah created a gingerbread piece all on her own for the first time. She designed a large lighthouse with a home, vehicle, and boat. Each submission to the Gingerbread Gallery must be completely edible, except for the base. After ...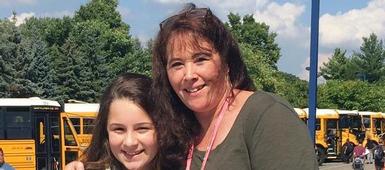 Meet new SES Principal, Christine Miczan!:

On Jan. 14, 2019, the Solvay Union Free School District Board of Education appointed Mrs. Christine Miczan as the new Principal of Solvay Elementary School. Mrs. Miczan has over 21 years of experience providing a safe and positive environment for students and staff. For the past year and a half, Mrs. Miczan has been the Assistant Principal of Solvay Middle School working with students, staff and families. Prior to working at Solvay, Mrs. Miczan worked for the Syracuse City Schools as a social studies teacher. Mrs. Miczan received her bachelor's degree from Buffalo State College in social studies education and her master's degree from Le Moyne College in special education. She taught at various levels and developed a variety of successful programs. She ...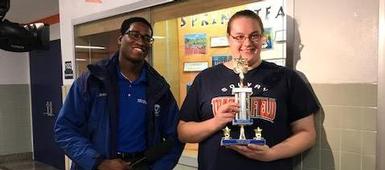 Solvay student named Athlete of the Week:

Solvay High School student Sabrina Garnett has been named the Athlete of the Week by News Channel 9/ Local SYR . Sabrina was selected due to her success in the shot put and weight throw. Congratulations, Sabrina! Click here to view the article on Sabrina's award , or watch the video below:
<< Previous Next >> Viewing 21 - 40 of 252 stories