District News
Next >> Viewing 1 - 20 of 176 stories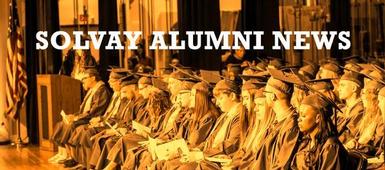 Alumni News: Congratulations to our alumni on these recent accomplishments!:

Congratulations to our Solvay alumni on these excellent accomplishments! - The State University of New York at Potsdam recently named Nathan Carr of Syracuse, NY to the SUNY Potsdam Dean's List for spring 2018. Nathan also graduated from SUNY Potsdam with a Bachelor of Arts degree in Environmental Studies this spring 2018. Congratulations, Nathan! - Nicholas A. Clemente was one of nearly 520 students who were awarded bachelor degrees from St. Lawrence University during Commencement ceremonies held on May 20, 2018 in Canton, New York. - Jacob DePalma of Syracuse, NY was recently named to the spring 2018 President's List at The State University of New York at Potsdam. ...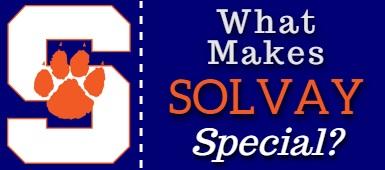 Thank you to the retirees of the Solvay Union Free School District!:

On Monday, June 18, the Solvay UFSD celebrated six employees retiring from the district. Please join us in congratulating them on their retirement and thanking them for their service to the Solvay UFSD! Brad Curtis - Brad Curtis has served the Solvay UFSD as a custodian for six years. He has worked at both Solvay High School and is finishing his service at Solvay Middle School. During his time with Solvay, Brad has led by example, arriving early, staying late, and dropping what he was doing to help others when needed. He has been a pleasure to work with and will be greatly missed. We wish Brad all the best as he retires and hopes he enjoys his time working on his sports cars, riding his motorcycles, and having more time to spend with his wonderful family. Thank you ...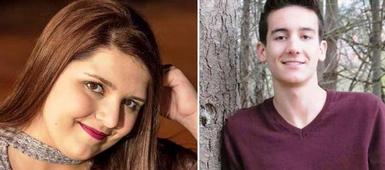 Meet the Class of 2018 Valedictorian and Salutatorian:

Congratulations to the Class of 2018 Valedictorian and Salutatorian! Mary Catherine "MC" Lopez Valedictorian Mary Catherine "MC" Lopez Parent(s) names : Frank and Mary Beth Lopez College choice: Nazareth College, to pursue a degree in Theatre with a Certification in Inclusive English Adolescent Education. I also plan to continue to study music, specifically the pipe organ. Career plans: I plan to become a high school English teacher and run the Drama Club at the school I teach. I also plan on being a substitute church organist. What have you enjoyed the most about high school? I've enjoyed being active in Drama Club, Masterminds/Double Down, Band, Chorus, Jazz Band, Vocal Jazz, and Chamber Choir. I've also ...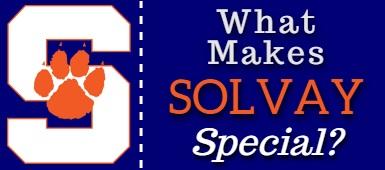 Congratulations to the SHS Class of 2018 candidates for graduation!:

Congratulations to the Solvay High School Class of 2018 candidates for graduation! Commencement for graduating seniors in the Solvay High School Class of 2018 will take place on Saturday, June 23 at 11 a.m. at Solvay High School. Everyone plays such an important role in shaping our students as they move through our school system. The Solvay Union Free School District would like to thank everyone in our community for the support you've given our students over the years. Graduation is both a student and community celebration. Thank you so much for everything you do! Here is a list of the candidates for graduation in the Class of 2018: Amal Al Zokari Suhil Alashwal Brooke Aldrich Caleb Andrew Breonna ...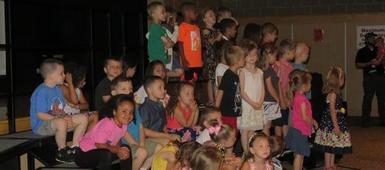 Pre-Kindergarten Students Graduate:

On Wednesday, June 20, pre-kindergarten students from the Solvay Union Free School District celebrated their graduation. The graduation took place in the Solvay Middle School auditorium, where students welcomed their friends and family to the event by showing them what they learned throughout the year. The students sang songs about the alphabet, numbers, and moving on to kindergarten. Students then received their diplomas, during which time many of their future career plans were announced – including teacher, firefighter, construction worker, princess, daddy, and mommy. After they received their diplomas, parents gathered their tissues as everyone watched a slideshow featuring pictures from when the students were babies to present day. Following the graduation, students and their ...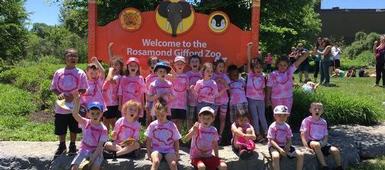 Kindergarten students take a trip to the zoo!:

Kindergarten students from Solvay Elementary School recently took a trip to the zoo – and spent the day with not only lions, tigers, and bears (oh my!), but also penguins, elephants, lemurs, and many more animals. The students spent the day at the Rosamond Gifford Zoo , where they were given the chance to interact with many of the animals they had discussed in the classroom throughout the year. For some students, it was their first visit to the zoo. "It was magical to watch their excitement in seeing all the animals we have been discussing in our classrooms up close and personal," said SES Kindergarten Teacher Sue Rivito. During the trip, students were able to explore a variety of exhibits and see many different animals throughout the zoo. Their favorite exhibitions ...
SMS students visit "Enterprise America":

For the fifth year, Solvay Middle School seventh-graders have visited the WCNY studios to participate in the Enterprise America program. The program, which is sponsored by WCNY, allows middle school students a unique hands-on learning experience, as they learn to run the city on their own. To learn more about the Enterprise America program, read the summary from last year here . For more information on the Enterprise America program, visit the website . See photos of the seventh-graders at Enterprise America below!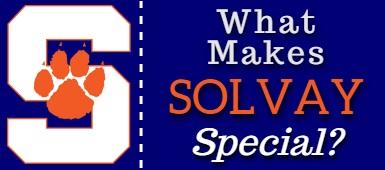 Solvay Tris participate in Pittsford Triathlon!:

Swimming, biking, and running – members of the Solvay Tris have begun to master it all! On Ready. Set. Go! On Sunday, June 3, members of the Solvay Tris participated in the Pittsford Triathlon, located in Pittsford, NY. The race consisted of a 300 yard swim, a 15 mile bike ride, and a 3.3 mile run. Members of the Solvay Tris did an excellent job of representing our district and left Pittsford with many accomplishments: Esther Germakovski completed the full race and took first place in her age group. Great job, Esther! Mackenzie Crossett and Isabella Leavines participated in the race on a relay team. Great job, Mackenzie and Isabella! In addition to these participants, the Solvay pride was strong, as additional Solvay Tris club members attended the race and volunteered ...
In case you missed it: Solvay High School Senior Ball:

On Friday, May 11, Solvay High School celebrated their senior ball at The Lodge at Welch Allyn in Skaneateles Falls. View some photos from the event below! Have more photos from senior ball? Share them with us at sentinel@solvayschools.org!
SES students turn Mr. Carpenter into ice cream sundae:

Students from Solvay Elementary School recently started their Friday off on a sweet note. In recognition of two students from SES meeting the savings challenge for the year, SES Principal Matt Carpenter was chosen to become a human ice cream sundae for the morning. The two winning students of the savings challenge were given the honor of helping turn Mr. Carpenter into the ice cream sundae. Since the start of the school year, students throughout the Solvay Union Free School District have made weekly/ monthly deposits into an ACMG credit union account. The challenge started at the beginning of the school year, when ACMG visited each school within the district to offer financial education and teach students the importance of saving. Students were motivated to participate in the ...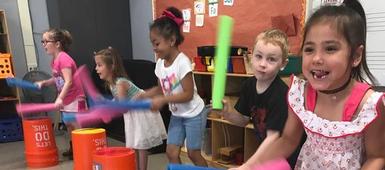 Students create sounds and songs in music class using buckets:

Thanks to a bucket, a pool noodle, and Home Depot, a different kind of sound has been coming from the music room lately at Solvay Elementary School. Home Depot recently donated 50 buckets to SES. The buckets have been put to good use during music classes, as students experiment with creating different sounds on each bucket. "The students really enjoy playing them," said SES Music Teacher Anna Lysiuk. Be sure to stop by SES soon to listen in on the fun!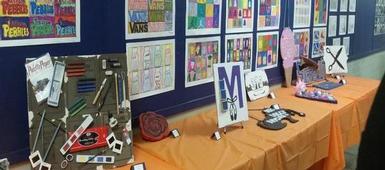 Solvay High School students showcase Photovoice project work:

Over the past semester, nearly 20 SHS students have worked with students from Syracuse University to participate in a Photovoice project. What is Photovoice? Photovoice is a participatory research and critical thinking method that allows students to share their experiences and collaborate for change. By taking photographs and writing about the meaning of the photos, students have had the opportunity to think deeply about their learning. This semester-long project culminated with a Photovoice Show where Solvay students, SU students, parents, teachers, professors, and administrators had the opportunity to view the photos and the writings. The end results were thoughtful, well developed works. Congratulations to all who were involved in this program! See below to view a sample ...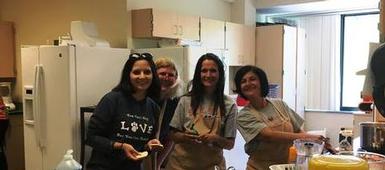 Solvay staff hear keynote kickoff on wellness:

For the latest professional development day at the Solvay Union Free School District, Dr. Kaushal Nanvati offered a keynote kickoff to start the day. In his keynote, he provided insights on finding a positive balance with wellness by focusing on the body, mind, and spirit. Dr. Nanvati is a doctor at Upstate Medical University and the author of "CORE 4 of Wellness: Nutrition/Physical Exercise/Stress Management/ Spiritual Wellness." Dr. Nanvati began his keynote talk by describing a tree, centering on the branches of the tree and what is seen of the tree above ground. He stressed the importance of the roots of that tree, stating that they were a symbol of wellness. He described how feeding the roots of the tree, just like feeding ourselves and our wellness, ...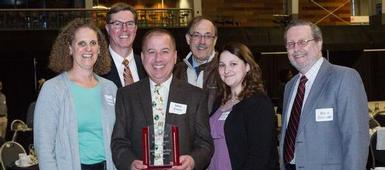 Celebration of Success 2018 at OCC:

On April 17, 2018, OCC hosted the "Celebration of Success 2018" ceremony. The celebration offered a look into the innovative programs and partnerships OCC offers, while providing a unique perspective of these programs and partnerships through the eyes of students and community partners. The Solvay UFSD was an impact partner honoree for the event, due to their participation in the OCC Advantage Program, which launched at Solvay UFSD in 2016 . Members of the Solvay UFSD administration team, members of the Solvay UFSD Board of Education, and students participating in the program attended the event. At the celebration, Superintendent Jay Tinklepaugh took to the stage to speak to attendees. He started his speech by acknowledging and thanking Dr. Casey Crabhill, the OCC Foundation, ...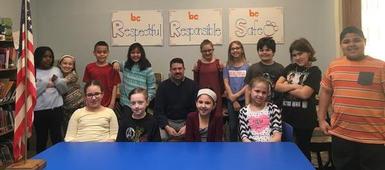 Students Practice Digital Citizenship and Become Critical Consumers of Information:

For the past month, third and fourth grade students at Solvay Elementary School have explored resources to enhance their digital citizenship in the Library Learning Commons. Just as they practice respectful, responsible, and safe behaviors in school on a daily basis, students also apply these skills in an online environment. Students used the Webonauts Internet academy published by PBS Kids to think about digital privacy and security. They also used the Digital Passport program created by Common Sense Media to consider appropriate cell phone use. In addition to this, they used Google Interland, in which students discern fact from fiction and recognize signs of phishing scams. Students become critical thinkers about what sources of entertainment they consume on ...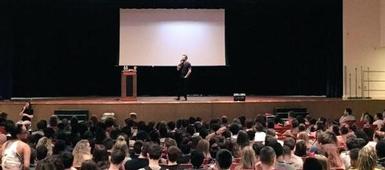 Author Jeff Zentner visits SHS:

On Wednesday, May 2, author Jeff Zentner travelled from Tennessee to talk to students at Solvay High School about reaching their goals and achieving their dreams. With him he brought inspiration, lessons on how to overcome speedbumps in life, how to turn your passions into a career, and plenty of sunshine. Zentner is the author of two books , "The Serpent King" and "Goodbye Days." His third book, "Rayne & Delilah's Midnite Matine," is set to be released in March 2019. Zentner started his talk by discussing his music career, which he says eventually led him to write his novel. He emphasized that when he was younger, he did not know what he wanted to do when he grew up, something many of the students in the audience could relate ...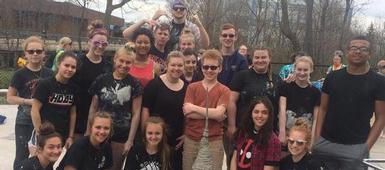 2018 Feats of Clay at OCC:

The 2018 Feats of Clay Ceramic Competition up at OCC is an annual competition. Shown to the left is the full team. Below, you will see Maddy Gwynn, Hannah Martineau, Gianna D'Agostino and Alivia Salvagni who participated in the No Hands event. This event requires participants to throw using only their arms, elbows and feet. The girls were able to throw the vessel pictured on the pottery wheel with no hands! See more about Feats of Clay at their website: http://featsofclay.org/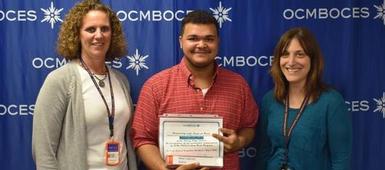 OCM BOCES Students Awarded in Snap-On "Tools for Success" Program:

OCM BOCES Students Awarded in Snap-On "Tools for Success" Program On Thursday, May 3, eight OCM BOCES Automotive Technology and Automotive Collision Technology students were recognized for their outstanding achievements through the Snap-On "Tools for Success" awards program. Students from each of OCM BOCES four automotive program classrooms, selected by their OCM BOCES instructors for their excellent automotive technology, math and science skills, as well as outstanding classroom participation, attendance and attitude, each received a certificate of excellence and a Snap-On Tools screwdriver, valued at over $100. Congratulations to Peter LaBrake, a senior at Solvay High School, for being chosen as a recipient of this award. ...
Next >> Viewing 1 - 20 of 176 stories