District News
Next >> Viewing 1 - 20 of 160 stories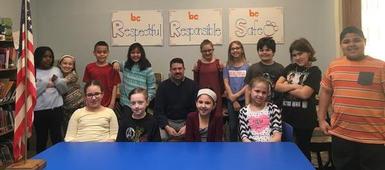 Students Practice Digital Citizenship and Become Critical Consumers of Information:

For the past month, third and fourth grade students at Solvay Elementary School have explored resources to enhance their digital citizenship in the Library Learning Commons. Just as they practice respectful, responsible, and safe behaviors in school on a daily basis, students also apply these skills in an online environment. Students used the Webonauts Internet academy published by PBS Kids to think about digital privacy and security. They also used the Digital Passport program created by Common Sense Media to consider appropriate cell phone use. In addition to this, they used Google Interland, in which students discern fact from fiction and recognize signs of phishing scams. Students become critical thinkers about what sources of entertainment they consume on ...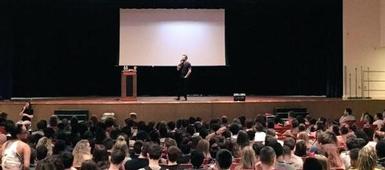 Author Jeff Zentner visits SHS:

On Wednesday, May 2, author Jeff Zentner travelled from Tennessee to talk to students at Solvay High School about reaching their goals and achieving their dreams. With him he brought inspiration, lessons on how to overcome speedbumps in life, how to turn your passions into a career, and plenty of sunshine. Zentner is the author of two books , "The Serpent King" and "Goodbye Days." His third book, "Rayne & Delilah's Midnite Matine," is set to be released in March 2019. Zentner started his talk by discussing his music career, which he says eventually led him to write his novel. He emphasized that when he was younger, he did not know what he wanted to do when he grew up, something many of the students in the audience could relate ...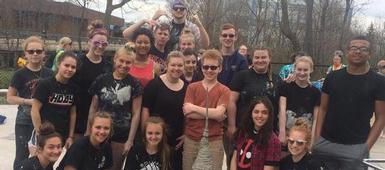 2018 Feats of Clay at OCC:

The 2018 Feats of Clay Ceramic Competition up at OCC is an annual competition. Shown to the left is the full team. Below, you will see Maddy Gwynn, Hannah Martineau, Gianna D'Agostino and Alivia Salvagni who participated in the No Hands event. This event requires participants to throw using only their arms, elbows and feet. The girls were able to throw the vessel pictured on the pottery wheel with no hands! See more about Feats of Clay at their website: http://featsofclay.org/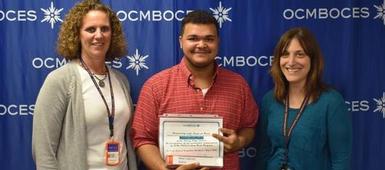 OCM BOCES Students Awarded in Snap-On "Tools for Success" Program:

OCM BOCES Students Awarded in Snap-On "Tools for Success" Program On Thursday, May 3, eight OCM BOCES Automotive Technology and Automotive Collision Technology students were recognized for their outstanding achievements through the Snap-On "Tools for Success" awards program. Students from each of OCM BOCES four automotive program classrooms, selected by their OCM BOCES instructors for their excellent automotive technology, math and science skills, as well as outstanding classroom participation, attendance and attitude, each received a certificate of excellence and a Snap-On Tools screwdriver, valued at over $100. Congratulations to Peter LaBrake, a senior at Solvay High School, for being chosen as a recipient of this award. ...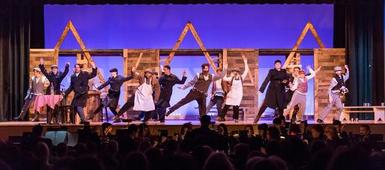 Congratulations to the Syracuse High School Theatre Awards Nominees!:

"Fiddler on the Roof" This year, the Solvay Union Free School District received four nominations for the Syracuse High School Theatre Awards for the recent performance of "Fiddler on the Roof." The nominations are as follows: Eddie Nanno, Best Lead Male Actor Mico Hayden, Rising Male Star Summer Lewis, Rising Female Star Nomination for Outstanding Choreography Execution - Mackenzie Gildemeyer To read more about the nominations, click here. Congratulations to our nominees! We wish you the best of luck at the awards ceremony on June 3.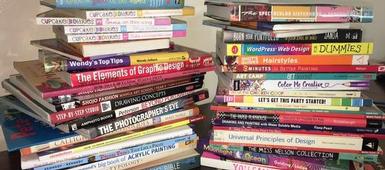 Alumni News: Solvay alumni donate books to district:

Thank you to the Geranis family! The family recently donated a variety of books to the Solvay Union Free School District, in loving memory of the Canestraro family. The Canestraro family were all longtime residents of Solvay. The two large bags of books will be put to great use in the district libraries and classrooms. Thank you to the Geranis and Canestraro families for showing us more of what makes Solvay special!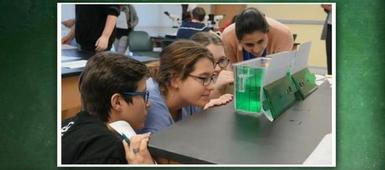 #TBT Solvay featured on "Cool Schools" SU Biology event visit:

Students from the Solvay Union Free School District recently stopped by Syracuse University for the bi-annual Biology Apprenticeship Evening. A total of 21 eighth and ninth-grade students attended the event, which aimed to introduce students to the STEM field of biology. At the event, Solvay students were able to meet with current undergrads at SU, who worked as mentors for the day and assisted the students in doing hands-on experiments in a university lab. In addition to the experiments, SU instructors led the Solvay students on a tour of the campus laboratories and the greenhouse in the Life Sciences Building. Solvay students also spent their time on campus learning about fish embryos and live zebra fish, in an effort to learn more about genetics. To see the "Cool School" ...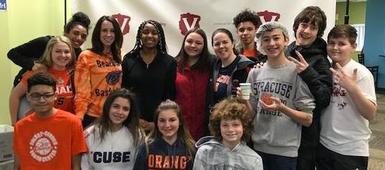 SMS students participate in "Feed My Starving Children" event:

On Friday, March 23, Solvay Middle School's eighth-graders traveled to the Vineyard Church to participate in Feed My Starving Children's MobilePack event. Feed My Starving Children is a nonprofit that provides dry, prepackaged, nutritionally based meals for malnourished and starving children and families around the world. The students spent two hours measuring, weighing, sealing, and packaging boxes of food that will be sent around the world and help thousands of children in need. At the end, students were even allowed to try a sample of the food they helped prepare! Great job to everyone who participated in this event!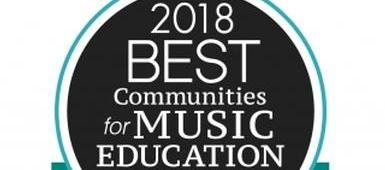 Solvay named one of "2018 Best Communities for Music Education!":

The Solvay Union Free School District has been named one of the "2018 Best Communities for Music Education!" For the first time, the Solvay Union Free School District has been awarded the recognition of being a 2018 "Best Community for Music Education" by the National Association of Music Merchants . The Communities for Music Education award program acknowledges schools and districts across the United States for their commitment to and support of music education. Solvay UFSD received the award along with 583 other schools throughout the nation. The "2018 Best Communities for Music Education" award recognizes the members of the Solvay community who have gone above and beyond to make music education part of the Solvay UFSD. This award acknowledges ...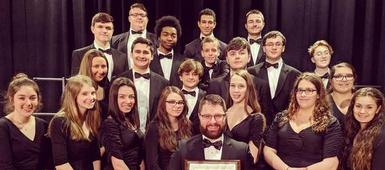 New Solvay Chamber Choir receives Gold Rating at Festival:

The Solvay Chamber Choir attended NYSSMA Majors for the first time and took home the gold. The chamber choir was formed this year through the the 21st Century Learning Grant Award . The grant allows students rehearse once a week for two hours in the evening. The students hard work has certainly paid off. After attending the festival, they received a Gold rating on their performance, where the judges commented on their sensitivity to the text and nuances of musicianship they have. Congratulations to our students on their well deserved award!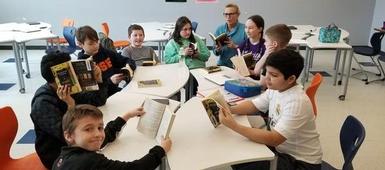 Sixth grade advisory time at Solvay Middle School:

Monday through Friday, sixth grade students from Solvay Middle School stop by to see SMS Physical Education Teacher Mrs. Fredrickson after lunch. The group then spends 30 minutes together for advisory time, which allows them the opportunity to all read a book together. The group is currently reading the book "A Wrinkle in Time." At the Solvay Union Free School District, all teachers are committed to improving the literacy skills of their students. SMS Assistant Principal Mrs. Miczan and SMS Librarian Mrs. Rock have been a great help in selecting challenging, age appropriate, and interesting books to read. The group, often referred to as 6A, comes to advisory time excited, willing, and ready to read together. The group focuses on the joy of reading. Students in ...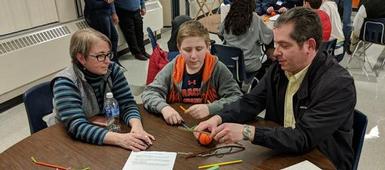 Students attend STEM Career Exploration Series:

Two seventh grade students and their families attended the Science, Technology, Engineering, and Mathematics Career Exploration Series on Feb. 28, 2018. The program was attended by students from across the Central New York region. The STEM Exploration Series was hosted at Solvay High School and featured C&S Companies, who put on a presentation about their company and the professions available within it. C&S Companies also held interactive activities for the CNY students. The two Solvay students who attended were Stephen Bagozzi and Cameron Giannone. Both students engaged in the panel discussions and asked some great questions. Great job, Stephen and Cameron!
Meet the SMS Math League Champs!:

Meet the Solvay Middle School Math League Champs! Five students from Solvay Middle School were recently selected to attend the Jr. High Math League Championship Meet on March 6 at Durgee Jr. High School in Baldwinsville. The five students selected were Paul Pino-Espino (eighth grade), Brianna Williams (eighth grade), Xander Fenton (eighth grade), Mekhi Johnson (seventh grade), and Stanley Ziemba (seventh grade). All five students competed in four meets held in-school, and earned the top five scores for Solvay's team. They advanced to this Championship Meet and competed against 15 other local schools. Congratulations to our math champions!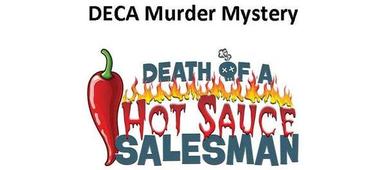 Solvay High School DECA Presents Murder Mystery Dinner April 7:

"Who-Dun-It?!" Solvay High School DECA invites the Solvay community to participate in the DECA Murder Mystery Dinner on Saturday, April 7 at 7:00 p.m. Solvay High School DECA will present the show "Death of a Hot Sauce Salesman" by Michael Druce. Proceeds from the annual fundraising event will benefit Solvay High School DECA. Tickets for the event are only $15 and include a pasta dinner and admission to the murder mystery show. This year's show will also include plenty of audience participation. The show will take place in the Solvay High School Cafeteria. Advance sale tickets can be purchased at the Solvay High School main office or from any DECA member. In addition to the show, there will also be raffles of gift baskets, a 50/50 raffle, ...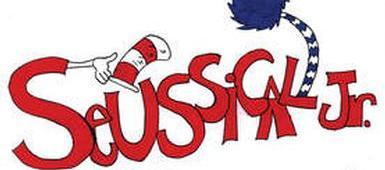 "Seussical Jr." cast and crew make donation to local charity:

The cast and crew of "Seussical Jr." make donation to Central New York Chapter of American Foundation for Suicide Prevention On Friday, March 23 and Saturday, March 24, over 75 cast members from Solvay Middle School, 40 pre-Kindergarten students, and 15 stage and tech crew members, all worked together to show the Solvay community the "thinks you can think," as they put on the musical "Seussical Jr." Students from fifth to eighth grade, along with pre-Kindergarten students dressed as "Whos," all took part in "Seussical Jr." The cast and crew of "Seussical Jr." continued the yearly tradition of donating a portion of ticket sales from the evening show on Saturday, March 24. The tradition was started as ...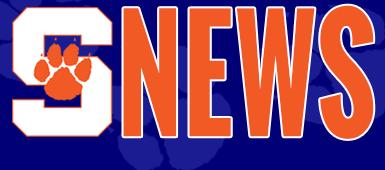 MS/HS Combined Choral Concert - Thursday 7pm SHS:

MS/HS combined choral concert will be held in the Solvay H.S. Auditorium beginning at 7:00 pm on Thursday, April 5 and will feature all the choral ensembles from the middle school and high school and will culminate with a massive chorus made up of ALL chorus students in grades 7-12 signing together for the final piece of the concert.
#TBT Kindergarten STEM and Gingerbread Men:

How did the Gingerbread Man cross the river? Students from Solvay Elementary School worked together using their science, technology, engineering, and math (STEM) and social skills to create an alternative plan for the Gingerbread Man to cross the river without falling in. Kindergarten students from SES participated in a STEM program as a part of the 21st Century Learning Grant Award . For one of their projects, they read a book that focused on the Gingerbread Man crossing the river on the back of a fox. In putting their STEM skills to work, students were able to come up with some very creative and successful alternatives for the Gingerbread Man. Great job, students!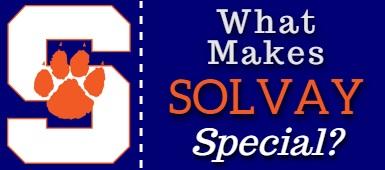 Alumni News Reminder:

Calling all Solvay alumni! There are many things that make Solvay special. The alumni of the Solvay Union Free School District are just one example of just that. Solvay alumni, we want to hear from you! Are you a Solvay alumni with a story to share? Do you know a Solvay alumni who has been up to something they would like to share? Stories, good news, and exciting accomplishments are all welcome. Email us at sentinel@solvayschools.org .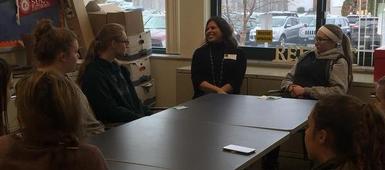 Alumni News: Rachel DeNoble, Class of 1986:

Solvay alumni Rachel DeNoble (Class of 1986) recently spoke to students from Solvay High School about careers in nursing. Ms. DeNoble is a pediatric palliative care nurse who supports children and their families dealing with a terminal illness. She works for Lifetime Care through the CompassionNet Program. Thank you for stopping by, Ms. DeNoble!
Next >> Viewing 1 - 20 of 160 stories