District News
Next >> Viewing 1 - 20 of 285 stories
Music Boosters Apparel Sale:

Music Boosters Clothing Fundraiser - Click for info! http://store.customlogousa.com/solvay_music_booster/shop/home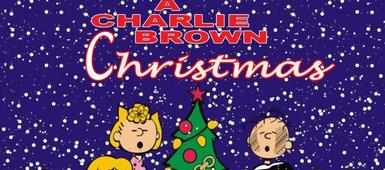 A Charlie Brown Christmas at SHS Nov 15-16:

The Solvay High School Drama Club is pleased to announce the fall play, "A Charlie Brown Christmas" Click the image to enlarge it Everyone's favorite holiday classic comes to life in the Solvay Drama Club production of "A Charlie Brown Christmas!" Come join Charlie Brown, Snoopy, Lucy, Linus, and the rest of the Peanuts gang as they put on their own Christmas play and learn the true meaning of Christmas. "A Charlie Brown Christmas" is a holiday gift that the whole family can enjoy! Adapted from Charles M. Schulz's timeless story of the spirit of Christmas, "A Charlie Brown Christmas" features the unforgettable music of Vince Guaraldi, as well as a sing along of ...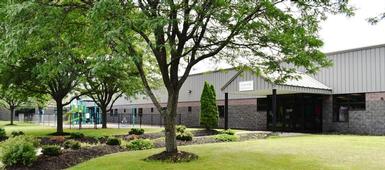 Vote on the OCM BOCES Referendum on November 19:

Click here to read the PDF version of the Press Release. Click here to view a one-page flyer about the referendum. Solvay district residents along with others who live within the school districts of the Onondaga-Cortland-Madison BOCES, are being asked to decide if the educational agency should end its 32-year lease for a campus off Crown Road in Liverpool and purchase the facility for $12.85 million. A public vote will take place on Tuesday, November 19. The purchase would result in no additional costs for the 23 school districts that participate in shared services through OCM BOCES, said OCM BOCES Deputy Superintendent Colleen Viggiano. Based on a financial analysis of the proposal, the purchase could save districts an estimated $2.2 million over the ...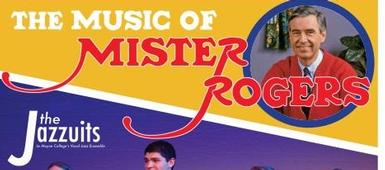 The Music of Mr. Rogers:

On Sunday October 27th, at 4pm at Our Lady of Pompei/ St. Peter's Church the Solvay Vocal Jazz Ensemble will be joining the Le Moyne Jazzuits and renowned Jazz Artist Ronnie Leigh, on the concert "The Music of Mister Rogers". Created by Tom Andino and Carol Jacobe, the concert takes us through selections of well know songs written by Fred Rogers that many of us grew up singing and watching. Throughout the concert, narrations of Fred's words are spoken and brought to life. Solvay Senior students will also be singing Duets with members of the Jazzuits. The concert is FREE and a free will donation will be collected for the Fred Rogers Productions and Our Lady of Pompei. We hope you can join us at this extremely special and moving musical event! For more details, please ...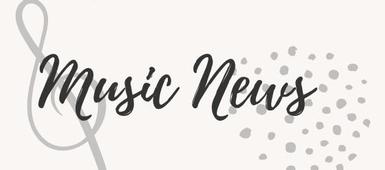 Music News!:

Congratulations to Mico Hayden, Senior, who was accepted as a Bass in New York State School of Music Association (NYSSMA) All-State Vocal Jazz Ensemble. This is a highly selective choral ensemble only accepting the 24 best jazz vocalist from around the state. Mico will attend the Conference in December and work with the Renowned Vocal Jazz Educator Rosana Erkert. Congratulations to you Mico on this high honor! Congratulations to Nicholas Lopez, Mico Hayden, and Evan Tennant, who were all selected as Alternates for Mixed Chorus and Jazz Percussion for the New York State School of Music Association (NYSSMA). To be chosen as alternates for these ensembles students must score a 100 on their auditions, which is no easy feat! Congratulations ...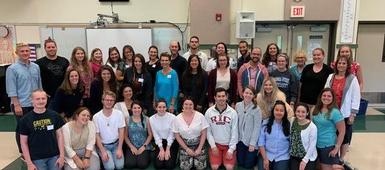 Area Teachers attend Fostering Music Literacy PD at Solvay:

The Solvay Music Department recently hosted BOCES/Solvay's professional pevelopment titled Fostering Music Literacy with internationally known Dr. Carol Krueger. The PD was attended by over 40 teachers from around Onondaga, Madison, Cayuga, Oswego, Utica, New Jersey, and Rhode Island. The educators came together and leared more about teaching music literacy in the classroom. Three of the attendeeds are Solvay's own.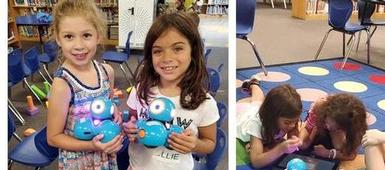 STEAM Quest a Great Success!:

STEAM Quest Camp at SES provided by SUNY Oswego, CNY/OC Teacher Center, CITI, and Onondaga County Photos are of Mrs. Alton and Mrs. Diel's group. Kids created a keyboard with the Makey Makey program, coded the robot Dash to move around the room, used Google Expeditions to virtually go on field trips, and used the Seesaw program to document their experiences.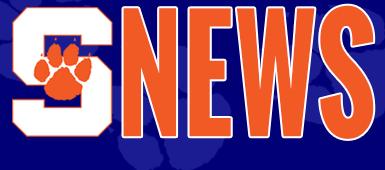 Meet Corey Graves, SHS' new Assistant Principal:

Corey is excited to become a Bearcat. He earned his Bachelor's and Master's degrees from SUNY Cortland and received his Certificate of Advanced Studies from SUNY Oswego. Corey began his career as a K-12 PE/Health teacher. For the past 3 years, he was also the Athletic Director and Assistant Principal for Stockbridgevalley Central School. Corey also had the privilege of serving as the Director of Academics for the SUNY Morrisville Summer Educational Opportunities Program (EOP) for the past 8 years. Corey lives in Sherrill with his wife 2 kids. In his free time, Corey enjoy training and competing in triathlons. He is looking forward to working with the Solvay Schools and community.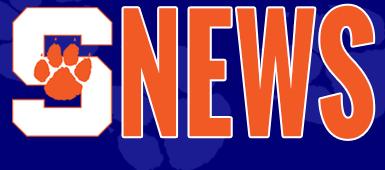 Meet new SMS Principal Jim Heffron:

Meet the New Solvay Middle School Principal, James Heffron Jim is excited to join Solvay Union Free School District, and especially the instructional team at Solvay Middle School. The newest member of the Solvay UFSD has lived in the Brewerton area for 17 years and started his career in education at North Syracuse Central School District. After graduating from Midlakes High School in the Finger Lakes, Jim earned his bachelor's degree from the State University of Geneseo with a BA in Mathematics Secondary Education 7-12. Jim then went on to graduate school at the State University of Oswego where he earned his Master's degree in Education with a concentration in Curriculum and Instruction for Math. He later obtained his Educational Leadership from Massachusetts ...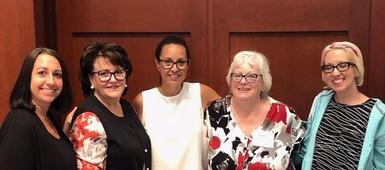 PreK Teachers Attend Summer Institute:

Solvay PreK teachers Kristin Misztal, Jaime Armani, Kate DeStefano, along with Solvay Elementary School principal, Chris Miszan, and literacy coordinator, Jill Weston, attended the P-3 Summer Institute at the College of St. Rose. They had the opportunity to unpack one of the New York City Department of Education Interdisciplinary units of study for preschool students. In addition, they were able to look deeper into the NYS PreKindergarten Learning Standards to build on their curricula. The speech focused on the importance of early education and was delivered by MaryEllen Elia, NYS Commissioner of Education. Ultimately, the message was uplifting and inspiring.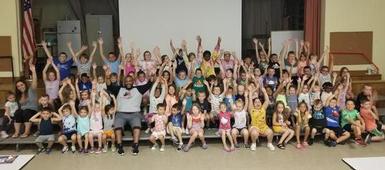 Community Service Week at SMART Camp!:

On June 17, SES Smart Camp students were visited by Al-amin Muhammad. The students were learning about Community Service and heard firsthand about his non-profit organization that helps the homeless of Syracuse - called We Rise Above the Streets. Al-amin started his non-profit here in Syracuse and he makes lunches every Saturday at Lincoln Middle School. After lunches are made, he drives to a bridge and passes out the lunches to homeless people every Saturday and is successful due to donations received by the non-profit. Al-amin read a book to the students and encouraged them to help their community. More information about the non-profit is located at their Facebook page: https://www.facebook.com/weriseabovethestreetsrecoveryoutreachinc/ Enjoy the ...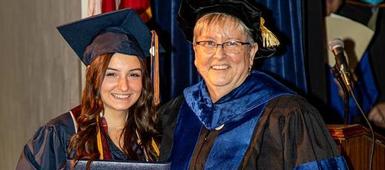 Natoli Earns Associates Degree:

On Saturday, June 22, 2019, nearly 140 seniors graduated from Solvay High School at the152nd Commencement Ceremony. One student, Natalina Natoli, not only received her high school diploma, but she also received her Associates Degree in Humanities and Social Sciences from Onondaga Community College. Natalina is the first student from Solvay High School to graduate with her high school diploma and have also met the requirements to receive an Associates Degree. We are fortunate to offer numerous college classes at Solvay High School, but we currently do not offer all of the necessary classes for a student to be able to graduate with an OCC degree. In Natalina's case, it took a lot of initiative to reach her goal. ...
Next >> Viewing 1 - 20 of 285 stories