District News
Next >> Viewing 1 - 20 of 277 stories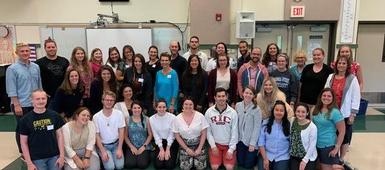 Area Teachers attend Fostering Music Literacy PD at Solvay:

The Solvay Music Department recently hosted BOCES/Solvay's professional pevelopment titled Fostering Music Literacy with internationally known Dr. Carol Krueger. The PD was attended by over 40 teachers from around Onondaga, Madison, Cayuga, Oswego, Utica, New Jersey, and Rhode Island. The educators came together and leared more about teaching music literacy in the classroom. Three of the attendeeds are Solvay's own.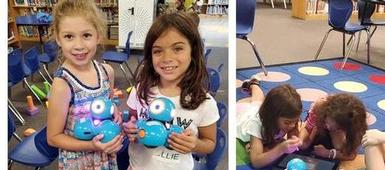 STEAM Quest a Great Success!:

STEAM Quest Camp at SES provided by SUNY Oswego, CNY/OC Teacher Center, CITI, and Onondaga County Photos are of Mrs. Alton and Mrs. Diel's group. Kids created a keyboard with the Makey Makey program, coded the robot Dash to move around the room, used Google Expeditions to virtually go on field trips, and used the Seesaw program to document their experiences.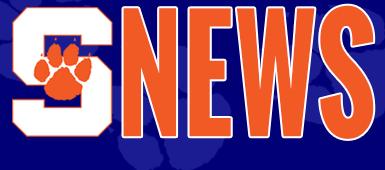 Meet Corey Graves, SHS' new Assistant Principal:

Corey is excited to become a Bearcat. He earned his Bachelor's and Master's degrees from SUNY Cortland and received his Certificate of Advanced Studies from SUNY Oswego. Corey began his career as a K-12 PE/Health teacher. For the past 3 years, he was also the Athletic Director and Assistant Principal for Stockbridgevalley Central School. Corey also had the privilege of serving as the Director of Academics for the SUNY Morrisville Summer Educational Opportunities Program (EOP) for the past 8 years. Corey lives in Sherrill with his wife 2 kids. In his free time, Corey enjoy training and competing in triathlons. He is looking forward to working with the Solvay Schools and community.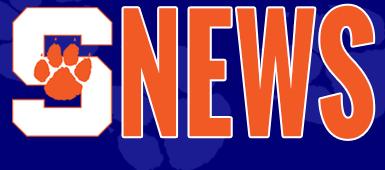 Meet new SMS Principal Jim Heffron:

Meet the New Solvay Middle School Principal, James Heffron Jim is excited to join Solvay Union Free School District, and especially the instructional team at Solvay Middle School. The newest member of the Solvay UFSD has lived in the Brewerton area for 17 years and started his career in education at North Syracuse Central School District. After graduating from Midlakes High School in the Finger Lakes, Jim earned his bachelor's degree from the State University of Geneseo with a BA in Mathematics Secondary Education 7-12. Jim then went on to graduate school at the State University of Oswego where he earned his Master's degree in Education with a concentration in Curriculum and Instruction for Math. He later obtained his Educational Leadership from Massachusetts ...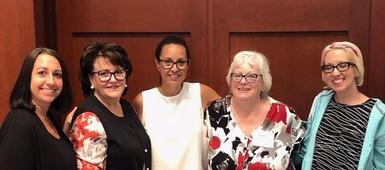 PreK Teachers Attend Summer Institute:

Solvay PreK teachers Kristin Misztal, Jaime Armani, Kate DeStefano, along with Solvay Elementary School principal, Chris Miszan, and literacy coordinator, Jill Weston, attended the P-3 Summer Institute at the College of St. Rose. They had the opportunity to unpack one of the New York City Department of Education Interdisciplinary units of study for preschool students. In addition, they were able to look deeper into the NYS PreKindergarten Learning Standards to build on their curricula. The speech focused on the importance of early education and was delivered by MaryEllen Elia, NYS Commissioner of Education. Ultimately, the message was uplifting and inspiring.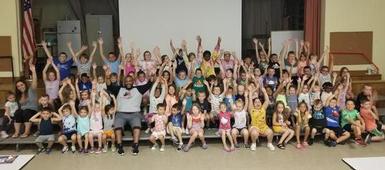 Community Service Week at SMART Camp!:

On June 17, SES Smart Camp students were visited by Al-amin Muhammad. The students were learning about Community Service and heard firsthand about his non-profit organization that helps the homeless of Syracuse - called We Rise Above the Streets. Al-amin started his non-profit here in Syracuse and he makes lunches every Saturday at Lincoln Middle School. After lunches are made, he drives to a bridge and passes out the lunches to homeless people every Saturday and is successful due to donations received by the non-profit. Al-amin read a book to the students and encouraged them to help their community. More information about the non-profit is located at their Facebook page: https://www.facebook.com/weriseabovethestreetsrecoveryoutreachinc/ Enjoy the ...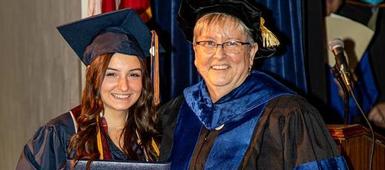 Natoli Earns Associates Degree:

On Saturday, June 22, 2019, nearly 140 seniors graduated from Solvay High School at the152nd Commencement Ceremony. One student, Natalina Natoli, not only received her high school diploma, but she also received her Associates Degree in Humanities and Social Sciences from Onondaga Community College. Natalina is the first student from Solvay High School to graduate with her high school diploma and have also met the requirements to receive an Associates Degree. We are fortunate to offer numerous college classes at Solvay High School, but we currently do not offer all of the necessary classes for a student to be able to graduate with an OCC degree. In Natalina's case, it took a lot of initiative to reach her goal. ...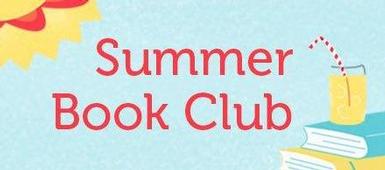 Summer Book Club Schedule:

Solvay High School will be hosting a summer book club for students going into grades 5-12. This program will give students access to books, prepare them for summer reading requirements, and give them a place to discuss what they are reading. Please encourage your student to come for part of or all of the two hours. Book Club will meet July 10, July 17, July 24, July 7, July 14, July 28 correct?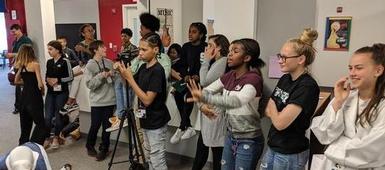 SMS Students Run the Show at Enterprise America:

Recently, a group of Solvay Middle School students paid a visit to WCNY's " Enterprise America ." Enterprise America is a hands-on program for middle-school students, and allows them to practice (and apply) the core tenets of STEM (science, technology, engineering and math), as well as their financial and civic literacy skills. Before that, however, students will partake in some classroom instruction, working with teachers who are using curriculum aligned to state and 21 st century learning standards. Following the completion of classroom study, students embarked on their journey into in Enterprise America City, which they were responsible for operating in its entirety! This meant students effectively ran the city's 14 different businesses, as well as ...
Track Athletes Move Up in Rank Following State Competition:

Congratulations go out to Solvay Boys' Outdoor Track & Field athletes Allen Cawthon, Elijah Wright, X'Zavier Morris, and Brendon Carolina for their recent performance at the New York State Track & Field Championships! Competing in the 4 x 100m relay, the team's strong performance actually saw their rank move up to 14 in Division II (small schools) by the end of competition. All four of Solvay's track coaches are tremendously proud of the students' achievement!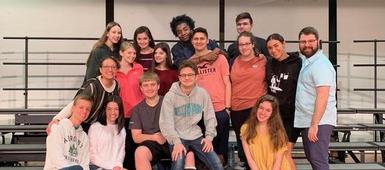 SHS Vocal Jazz Group Performs for Singer Kim Nazarian:

Last month, the Solvay Vocal Jazz group had the opportunity to perform for Kim Nazarian, a member of the internationally-known vocal jazz ensemble "New York Voices!" The students performed the Stevie Wonder classic "Superstition," as well as the New York Voices own arrangement of Paul Simon's classic "Mother and Child Reunion." It was a day filled with great music-making!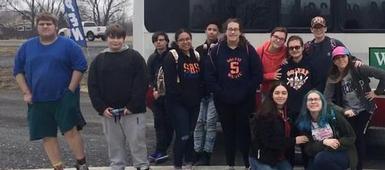 SHS Students Take Trip to Seneca Army Depot:

Earlier in the spring, several Solvay High School students took a field trip to the Seneca Army Depot and White Deer Tour in Romulus, NY. The trip was funded through the 21st Century Learning Grant. During the trip, students learned about The Cold War, and how the Army utilized that area during that time. They were even able to go into one of the Army igloos that was originally built to sustain an atomic bomb attack. Additionally, students saw a beaver dam, an eagle nest (with an actual eagle in it), several brown deer and 24 white deer! The students learned many interesting nature facts, such as: White deer are not "albino," as their coloration is the result of a recessive gene, not a mutation. All told, it was a fun and educational day! ...
Student Role Models Nominated for Lunch with Principal:

Recently, teachers from multiple elementary classrooms nominated some students to attend a Principal's Luncheon! The students were nominated based on the qualities they exude that make them great role models. Following the nominations, Principal Christine Miczan ate lunch with each group throughout the week. The students shared stories about school and life with their principal, and she, in turn, shared cookies and treats with the students! Principal Miczan especially enjoyed the event, and is looking forward to the next luncheons filled new groups of responsible, respectful, and safe students.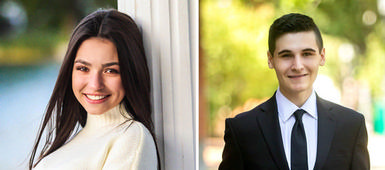 Meet this year's Valedictorian & Salutatorian:

Please click here to view Syracuse.com's Featured Article: SOLVAY HIGH SCHOOL Valedictorian Name: Marisa Presutto Town: Syracuse Parents: Laurie and Anthony Presutto My plans in the next few years: I will be attending SUNY Geneseo as a Biology major. What I've enjoyed the most about my high school experience: I have been involved in music and theater for as long as I can remember. Being a member of my school's Vocal Jazz Ensemble as well as a part of our theater productions has by far been the highlight of my high school career. My favorite quote or saying: "Everyone is a genius. But if you judge a fish by its ability to climb a tree, ...
Next >> Viewing 1 - 20 of 277 stories