Be Prepared! The Lion King Jr. Comes to Solvay Middle School
---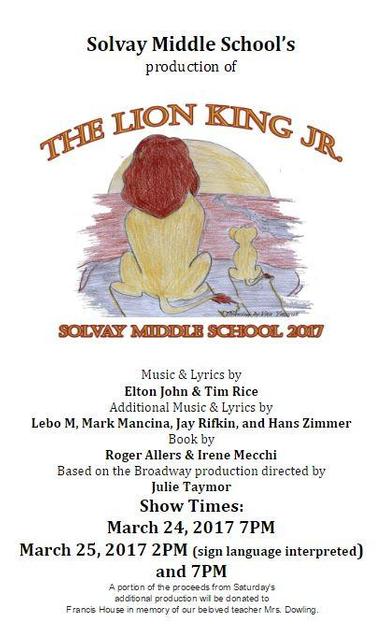 Be prepared! On Friday, March 24 and Saturday, March 25, "The Lion King Jr." will roar to life at Solvay Middle School.

Over 100 students from Solvay Middle School have worked together for months preparing for the show. "The Lion King Jr." has been the perfect ensemble show for this large cast, which includes students in fourth to eighth grade. The music in "The Lion King Jr." is a mixture of African chant blended with rich, exquisite melodies that fit together like a beautifully woven fabric. Solvay Middle School's production will feature familiar songs such as "Hakuna Matata" and "I Just Can't Wait to be King!," which contrast with the haunting melodies of "Shadowland" and "The Mourning."

The cast and crew of "The Lion King Jr." will continue the yearly tradition of donating a portion of ticket sales from the third show on March 25 at 7 p.m. to a deserving local organization. This year's donation will go to Francis House, in memory of beloved Solvay teacher and friend, Mrs. Andrea Dowling.

"The Lion King Jr." will debut at Solvay Middle School on Friday, March 24 at 7 p.m. and Saturday, March 25 at 2 p.m. and 7 p.m. The matinee performance on Saturday, March 25 at 2 p.m. will be signed in American Sign Language.

Tickets are $5 each. Pre-sale tickets are available Tuesday, March 21 to Thursday, March 23. General admission tickets will be sold at the door starting a half hour before each show. Both cash and check (made out to Solvay Middle School) are accepted. For more information on tickets, please contact jcounsieau@solvayschools.org.

We hope you will join Solvay Middle School for a night of no worries -- hakuna matata!