A Charlie Brown Christmas at SHS Nov 15-16
The Solvay High School Drama Club is pleased to announce the fall play,
"A Charlie Brown Christmas"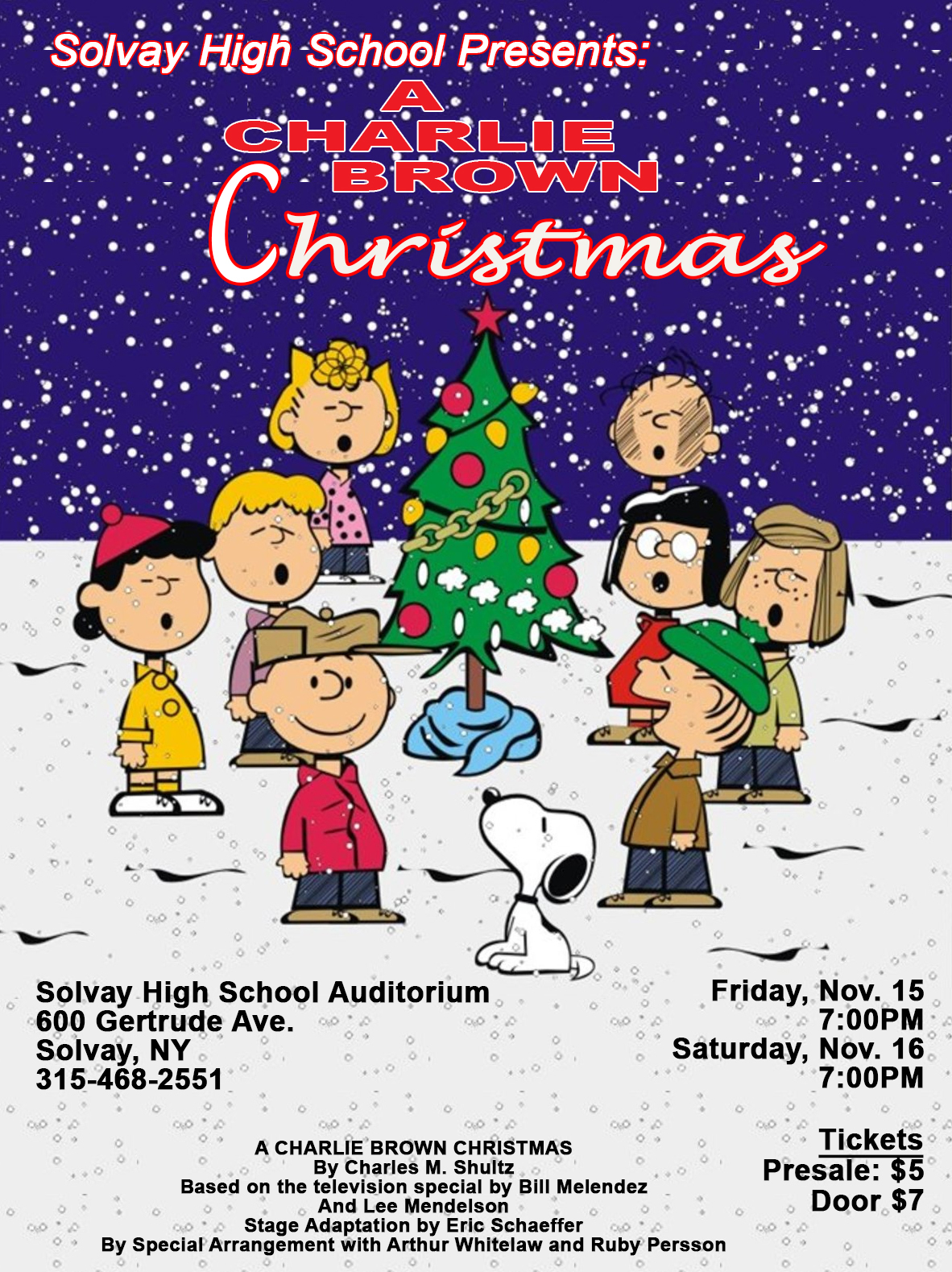 Everyone's favorite holiday classic comes to life in the Solvay Drama Club production of "A Charlie Brown Christmas!" Come join Charlie Brown, Snoopy, Lucy, Linus, and the rest of the Peanuts gang as they put on their own Christmas play and learn the true meaning of Christmas. "A Charlie Brown Christmas" is a holiday gift that the whole family can enjoy! Adapted from Charles M. Schulz's timeless story of the spirit of Christmas, "A Charlie Brown Christmas" features the unforgettable music of Vince Guaraldi, as well as a sing along of beloved holiday carols performed by your favorite Peanuts characters. There's no better way to discover the magic of the season!
The show has been directed by MacKenzie Gildemeyer, musically directed by SHS student Mico Hayden, and produced by Jerry FitzGerald. The director and producer are assisted by Christian (CJ) Oliver.
The Peanuts cast of characters include: Anthony Fritzen as Charlie Brown, Jianna Speach (Lucy), Steven Bagozzi (Linus), Kelsie Edson (Sally), Zack Balduzzi (Schroeder), Jennifer Klix (Violet), Nicholas Lopez (Pig Pen), Rhiannon Ackerman (Patty), Javen Green (Shermy), Allie Dooher (Frieda), Nick Trinca (Snoopy), and Reaghan Donigan (Woodstock).
"A Charlie Brown Christmas" will debut in the SHS Auditorium on Friday, November 15th at 7 p.m. and Saturday, November 16th at 7 p.m.
Tickets are on sale now. Presale tickets are $5. Tickets will also be sold at the door the day of each performance for $7. Children five and under are free. Tickets can be purchased at the SHS Main Office or by phone at 315-468-2551.
We hope you will come out to support the SHS Drama Club and kick off your holiday season with a classic!