Meet new SMS Principal Jim Heffron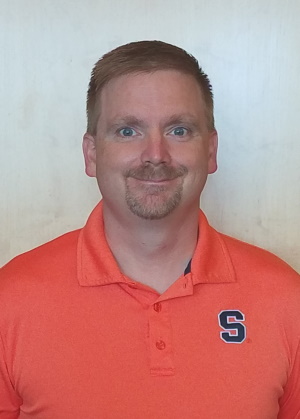 Meet the New Solvay Middle School Principal, James Heffron
Jim is excited to join Solvay Union Free School District, and especially the instructional team at Solvay Middle School. The newest member of the Solvay UFSD has lived in the Brewerton area for 17 years and started his career in education at North Syracuse Central School District.
After graduating from Midlakes High School in the Finger Lakes, Jim earned his bachelor's degree from the State University of Geneseo with a BA in Mathematics Secondary Education 7-12. Jim then went on to graduate school at the State University of Oswego where he earned his Master's degree in Education with a concentration in Curriculum and Instruction for Math. He later obtained his Educational Leadership from Massachusetts College of Liberal Arts.
Before becoming an administrator, Jim was a secondary math teacher for 11 years for the North Syracuse School District; followed by a House Dean. After receiving his building and district leader certifications, Jim joined Altmar-Parish-Williamstown School District, where he served as an assistant principal, principal, and administrator.
Jim and his wife Shannon met at CNS HS, and have two children, ages 15 and 13. In his free time, Jim enjoys camping with his family, participating in Boy Scouts with his son, and cheering for his daughter on the soccer field. He is thrilled to be joining Solvay UFSD and starting a new journey at SMS.