Solvay UFSD and CNYRIC win second NYSPRA award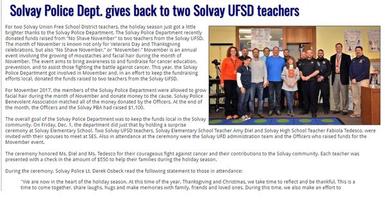 (October 2018) – The Solvay Union Free School District (UFSD) has received their second prestigious award through the 2018 New York State Public Relations Association (NYSPRA) annual communications competition for their coverage of the Solvay Police Department giving back to two teachers at the Solvay UFSD for the holiday season. The district received an award of merit in the Excellence in Writing category in this year's contest, for the article "Solvay Police Dept. gives back to two Solvay UFSD teachers."

Written in collaboration with the Central New York Regional Information Center's (CNYRIC) e-Communication team, the article provided an overview of the Solvay Police Department's participation in "No Shave November," also known as "Movember." In an effort to keep the fundraising efforts local, the Solvay Police Department donated the funds raised to two teachers from the Solvay UFSD to help their families during the holiday season.

NYSPRA's annual contest is one of the largest of its kind in the nation. The annual communications awards recognize and celebrate outstanding achievement in educational communications. Congratulations to Solvay UFSD and the CNYRIC e-Communications team on receiving such an esteemed award!