Solvay Drama Club Presents "Clue: On Stage" Nov. 2 & 3
The Solvay Drama Club is proud to a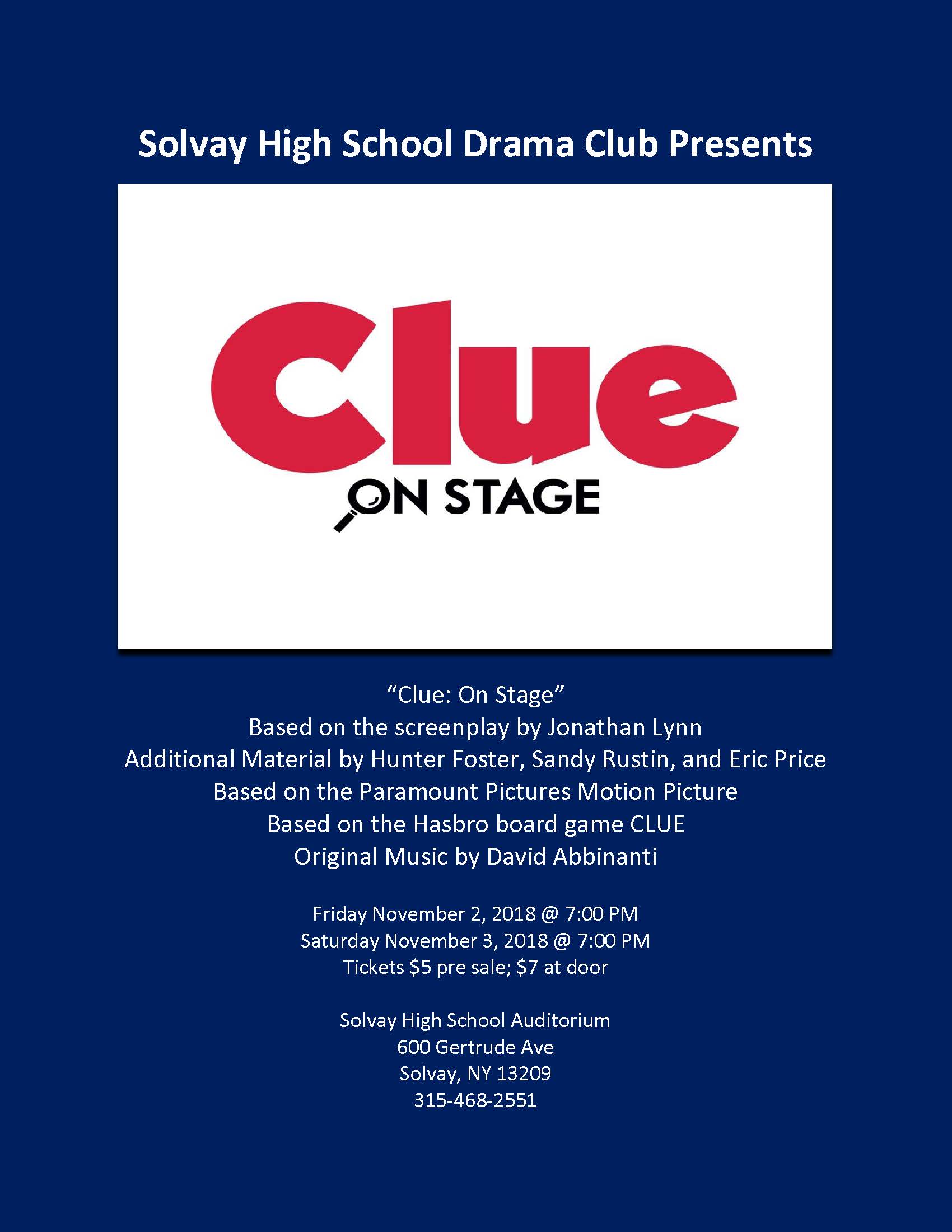 nnounce the return of the play "Clue: On Stage."

It's a dark and stormy night, and you've been invited to a very unusual dinner party. Each of the guests has an alias, the butler offers a variety of weapons, and the host is, well... dead. So whodunnit? Join the iconic oddballs known as Scarlet, Plum, White, Green, Peacock, and Mustard as they race to find the murderer in Boddy Manor before the body count stacks up. Based on the cult classic film and the popular board game, "Clue" is a madcap comedy that will keep you guessing until the final twist.

"Clue" will take place at Solvay High School on Friday, Nov. 2 and Saturday, Nov. 3 at 7 p.m. Tickets are $5 for presale, $5 for student and seniors and $7 for adults. Tickets may be purchased through a cast member or by calling (315) 468-2551 to reserve them.

The cast of "Clue" includes: Wadsworth (Nick Lopez), Mr. Green (Mico Hayden), Professor Plum (Anthony Fritzen), Colonel Mustard (Nick Trinca), Mr. Boddy (Matt Hayden), Motorist (Lily Fenton), Miss Scarlet (Marisa Presutto), Mrs. Peacock (Jen Klix), Mrs. White (Jelena Scalzo), Yvette (Summer Lewis), Cook/Telegram Girl/Reporter (Jianna Speech), Cop (Rhiannon Ackerman).