Board of Education Recognition Week 2018-19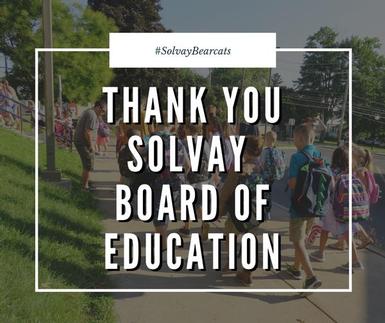 The New York State School Boards Association recognizes October 22-26 as School Board Recognition Week. This is a time to promote awareness and understanding of the important work performed by our school board members. Solvay Union Free School District is joining all public school districts across the state to celebrate School Board Recognition Week to honor local board members for their commitment to Solvay UFSD, its children, staff, and community.

"The efforts of our Board of Education at the Solvay UFSD are above and beyond. Their commitment and dedication to our students and their education is nothing short of inspiring," said Solvay UFSD Superintendent Jay Tinklepaugh. "Through the Board's devotion and tireless efforts, we see another shining example of what makes Solvay so special."

The members serving the Solvay UFSD are as follows:
Kristin Sunser-King, President
Kevin Dwyer, Vice President
Ty Marshal, District Clerk
Stephen P. Zalewski, Assistant Clerk
Heather Lotito, Member

Thank you, Solvay UFSD Board of Education!