SES students turn Mr. Carpenter into ice cream sundae
---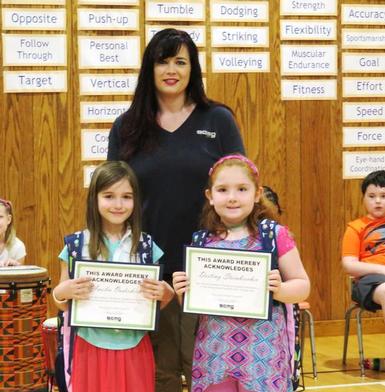 Students from Solvay Elementary School recently started their Friday off on a sweet note. In recognition of two students from SES meeting the savings challenge for the year, SES Principal Matt Carpenter was chosen to become a human ice cream sundae for the morning. The two winning students of the savings challenge were given the honor of helping turn Mr. Carpenter into the ice cream sundae.

Since the start of the school year, students throughout the Solvay Union Free School District have made weekly/ monthly deposits into an ACMG credit union account. The challenge started at the beginning of the school year, when ACMG visited each school within the district to offer financial education and teach students the importance of saving. Students were motivated to participate in the challenge with the promise of a special prize at the end of the year – and being able to turn their school principal into an ice cream sundae.

During the morning program at SES on Friday, June 8, two students received their special prize, which included a certificate marking their accomplishments and a unicorn backpack full of summer activities and treats. Following this, the real treat arrived when Mr. Carpenter emerged in a jumpsuit, ready to become a human ice cream sundae. With all of SES cheering them on, the students quickly began to turn Mr. Carpenter into a sundae, adding ice cream, chocolate syrup, whipped cream, marshmallows, and sprinkles to this outfit.

Great job to our students on meeting their savings challenge – and turning Mr. Carpenter into a human ice cream sundae.