Solvay UFSD and CNYRIC win NYSPRA award
---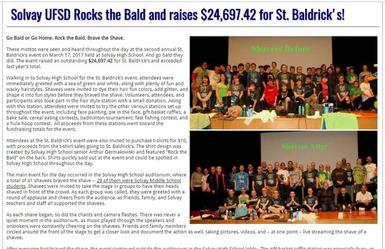 (September 2017) – The Solvay Union Free School District (UFSD) has received a prestigious award through the 2017 New York State Public Relations Association (NYSPRA) annual communications competition for their coverage of Solvay High School's St. Baldrick's event. The district received an award of merit in the Excellence in Writing category in this year's contest, for the article "Solvay UFSD Rocks the Bald and raises $24,697.42 for St. Baldrick's!"

Written in collaboration with the Central New York Regional Information Center's (CNYRIC) e-Communication team, the article provided an extensive overview of the second St. Baldrick's event at Solvay High School, which raised an outstanding $24,697.42 -- exceeding the previous years goal and bringing together the Solvay community.

NYSPRA's annual contest is one of the largest of its kind in the nation. The annual communications awards recognize and celebrate outstanding achievement in educational communications. Award-winning recipients will be honored at the annual NYSPRA Awards ceremony held in Lake Placid.

Congratulations to Solvay UFSD and the CNYRIC e-Communications team on receiving such an esteemed award!