Solvay ES Takes a Safari adventure with Solvay HS
---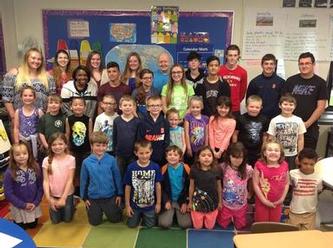 Lions and tigers and bears, oh my! Solvay Elementary School first grade students and Solvay High School ELA students have journeyed together on a literary safari – and they are excited to share their results.

First-grade students at SES recently had the exciting opportunity to collaborate with students from SHS to write a book about animals in three different habitats – rainforest, saltwater, and African Savanna.

SHS students in Mrs. Juston and Mrs. Russell's ELA classrooms traveled to SES to meet with all first grade students and form writing buddies. During this time, SHS students shared their writing with the first-grade students. The SHS students then provided support to the first grade students as they engaged in writing several pages about animals within their assigned habitat.

Prior to the collaboration days, students from SES and SHS were given assignments and opportunities to increase their background knowledge on eight animals within a specific habitat. Through short video clips, stories, and complex text, students engaged in total participation techniques to process their learning, reading, and understanding of the animals in order to prepare for the writing collaboration.

At the end of the collaboration, all first-graders were given a copy of the book they wrote with their high school writing buddy.

Students at SES and SHS all shared how much they enjoyed the collaboration experience and hoped to take part in similar exercises and collaborations in the future. One student from SHS enjoyed the experience so much she even decided to change career paths in order to pursue becoming a teacher.

Teachers involved in this project included SES first grade teachers Nicole Barnes, Brain Comerford, Erica Haahr, Lisa Reynolds, and Amber Welch; SHS ELA teachers Heather Juston and Nicole Russell, Grade 4-12 ELA Content Specialist Linda Ponza, and K-6 Literacy Coach Jill Weston. Thank you to everyone who helped to make this collaboration possible.