Solvay High School DECA Presents Murder Mystery Dinner April 22
---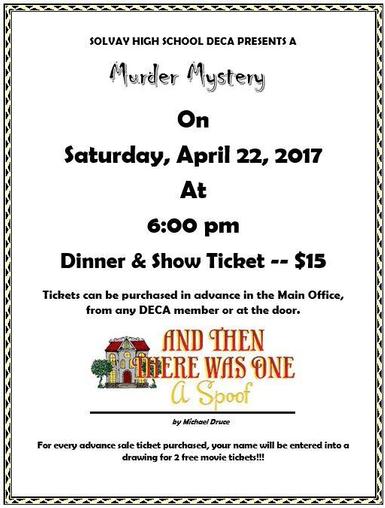 "And then there was one…"

Solvay High School DECA invites the Solvay community to participate in the DECA Murder Mystery Dinner on Saturday, April 22 at 6:00 p.m. Solvay High School DECA will present the show "And Then There Was One A Spoof" by Michael Druce. Proceeds from the annual fundraising event will benefit Solvay High School DECA.

Tickets for the event are only $15 and include a pasta dinner and admission to the murder mystery show. The show will take place in the High School Cafeteria. Advance sale tickets can be purchased at the Solvay High School main office or from any DECA member. In addition to the show, there will also be raffles of gift baskets at the event.

We hope you can join us for a night full of plenty of mystery and laughter!