How Two Solvay Teachers Helped St. Baldrick's Grow at Solvay UFSD
---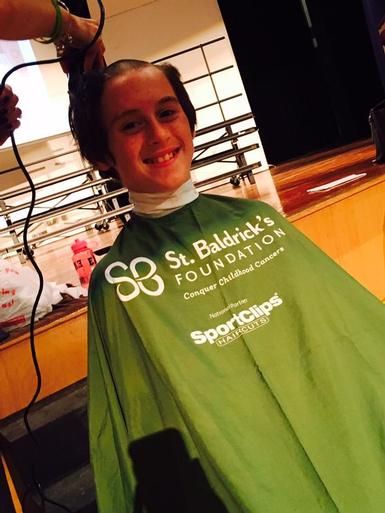 Last year, the first St. Baldrick's event was held in the Solvay Union Free School District (UFSD) at Solvay High School (HS). The event raised over $22,000 for the St. Baldrick's Foundation. The Solvay HS event was one of 1,200 that took place around the country that year, with over 45,000 people braving the shave and helping to raise funds for St. Baldrick's. Since 2005, the St. Baldrick's Foundation has granted more than $200 million to support the development of childhood cancer treatments that are as unique as each child.

St. Baldrick's was brought to the Solvay UFSD thanks to the hard work of two teachers, Patricia Campbell-Kochanek and Katie St. Denis. St. Denis became involved in St. Baldrick's as a way to honor her late father's memory.

"I couldn't stop thinking about cancer and how difficult it must be for children and their families," said St. Denis. "What stuck with me most was that 1 in 5 children diagnosed with cancer in the U.S. will not survive. That's a staggering statistic. I wanted to do something to get involved."

St. Denis knew that Campbell-Kochanek had participated in past St. Baldrick's events as a shavee, so she reached out to Campbell-Kochanek about signing up for an event.

"Pat is really the reason why I even thought we could make the St. Baldrick's event successful at Solvay HS," said St. Denis. "She has also experienced loss due to cancer, so she understood and shared my passion for wanting to get involved. In fact, Pat has been actively involved in St. Baldrick's events for years."

The idea continued to grow from there, as when trying to determine where to register for the event, the thought of including the Solvay UFSD students crossed their minds. The two talked to Solvay HS Principal Jay Tinklepaugh, and from there the event grew and took on a life of its own. The 2016 event included 39 shavees, with over 30 volunteers, raising over $22,000.

This year's St. Baldrick's event is the second event at the Solvay UFSD. The event currently has a goal of raising $15,000, though they hope to surpass last year's amount as well. This year's event is on track to do just that, as more funds are being raised each day. So far this year, there are more than 800 St. Baldrick's events scheduled, with more than 13,000 people registered as shavees. Over 2,500 of those shavees are female.

"My dad always believed in service to his community and supporting charities with a mission to help children," said St. Denis. "St. Baldrick's is an excellent way to honor his memory."

The St. Baldrick's event will take place at Solvay HS on March 17 from 12:45 p.m. to 3:30 p.m., with shavees taking the stage to have their heads shaved in the Solvay HS auditorium.

Are you looking to become a shavee, fundraiser, or volunteer for a great cause? Please visit Solvay's St. Baldrick's site at www.stbaldricks.org/events/SolvayHS.